Here's Your Receipt, Sucker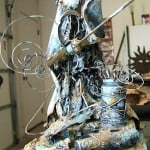 If you are like the Czar, you have already used The White House's online tax receipt calculator to see where your money allegedly goes. Actually, if you're like the Czar, you already suspect the IRS is gleefully monitoring every number you type in to see if that is what you really paid.
Well, it is a cute idea. Except, of course, it is hardly meaningful to know that x much money went to National Defense, and so on. What does that mean? GorT has a much more accurate calculator (which unfortunately for you is not online but in his head) that was much more precise in its computation.
Taxwise, the Czar learned that in 2010…
$64 went to General Spandex purchases
$18.11 was paid to a dude name Freshmo
$933 was spent on canned tuna for a MSgt Friskie at Fort Ord
$4,322.82 went to a Federal Smoot-Hawley Tariff Re-Enactment Guild
$32 went to replace a cupholder in an F/A-18
$67.33 went to buy a single over-sized pizza for Rep. Charles Bass, of New Hampshire
$92 went to purchase something called Sponge-O
$22,509 was simply handed to the SEIU as a tip
Curiously, $3.14 was spent on pie
$28.49 went to purchase a sump pump for Raymond Hulqvist of Bend, Oregon
$765 was spent developing the tax receipt calculator
Well, you get the idea.
Oh, one neat tidbit: turns out the Czar purchased the vertical stabilizer fin of the first Tomahawk cruise missile to sail into Libya. That's pretty cool. And who knew? The thing costs only about $1.20.

Божію Поспѣшествующею Милостію Мы, Дима Грозный Императоръ и Самодержецъ Всероссiйскiй, цѣсарь Московскiй. The Czar was born in the steppes of Russia in 1267, and was cheated out of total control of all Russia upon the death of Boris Mikhailovich, who replaced Alexander Yaroslav Nevsky in 1263. However, in 1283, our Czar was passed over due to a clerical error and the rule of all Russia went to his second cousin Daniil (Даниил Александрович), whom Czar still resents. As a half-hearted apology, the Czar was awarded control over Muscovy, inconveniently located 5,000 miles away just outside Chicago. He now spends his time seething about this and writing about other stuff that bothers him.