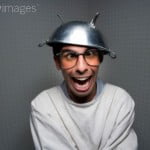 E.J. Dionne Jr. has gotten loose from his restraints again, and found a keyboard. In assessing our national and state budget crises, Mr. Dionne advocates that Washington Democrats behave more like … Wisconsin Democrats! Mr. Dionne opines:
In Wisconsin, by contrast, 14 Democrats in the state Senate defined the political argument on their own terms – and they are winning it.

By leaving Madison rather than providing a quorum to pass Gov. Scott Walker's assault on collective bargaining for public employees, the Wisconsin 14 took a big risk. Yet to the surprise of establishment politicians, voters have sided with the itinerant senators and the unions against a Republican governor who has been successfully portrayed as an inflexible ideologue. And in using questionable tactics to force the antiunion provision through the Senate on Wednesday, Republicans may win a procedural round but lose further ground in public opinion.
Mr. Dionne concludes his column with the following observations:
To this point, Washington Democrats have been too afraid and divided to engage compellingly on the fundamentals of what government is there to do and how the burdens of deficit reduction should be apportioned. Wisconsin Democrats have shown that the only way to win arguments is to take risks on behalf of what you believe. Are Washington Democrats prepared to learn this lesson?
So much crazy, so little time.
Mr. Dionne states the Wisconsin Senate Democrats "defined the political argument on their own terms." Wrong. The Wisconsin Democrats broke their solemn oath to support and defend the Constitutions of the United States and Wisconsin, and fled to another jurisdiction to prevent the government from functioning. 'Puter thinks this action alone is impeachable, but it should certainly be beyond question that fleeing is immoral.
As Mr. Dionne's man-crush President Obama once said to Republican Senators, "I won." By this, President Obama meant that Democrats won staggering victories in 2008 across all branches of the federal government, and as such, Democrats had a right to set the agenda and legislate. Senate Republicans hated it, but they did not run off to Canada. They stayed and used every legitimate procedural trick they could muster, and still failed in preventing the shambling wreck of ObamaCare from becoming law. That's what grownups do. They play the game by the rules, regardless of outcome.
Additionally, 'Puter assumes that Mr. Dionne must have written this column before last night when several things became apparent. First, Republicans won the battle, and likely the war, by passing union-curtailing legislation in the absence of the Democrats. Second, it is unclear that public sentiment has turned broadly against Republicans, or whether voters simply want to see normalcy in government restored (that the Democrats stole through running off to Illinois). Third, Democrats never had any interest in compromise, as released emails from Gov. Walker's office have shown beyond doubt.
'Puter cannot fault Mr. Dionne's ultimate conclusion that Washington Democrats should vigorously defend their concept of expansive, intrusive government against Republican budget cuts. However, the idea that Washington Democrats should model their behavior after the juvenile, illegal actions of Wisconsin's Democrat senators is foolish.
'Puter's ultimate concern is that Mr.Dionne's view is mainstream on the left. That is, if you don't like the results, you can use illegal means to overturn the results of elections. That, friends, is dangerous. And un-American. And 'Puter challenges Mr. Dionne to show otherwise.

Always right, unless he isn't, the infallible Ghettoputer F. X. Gormogons claims to be an in-law of the Volgi, although no one really believes this.
'Puter carefully follows economic and financial trends, legal affairs, and serves as the Gormogons' financial and legal advisor. He successfully defended us against a lawsuit from a liquor distributor worth hundreds of thousands of dollars in unpaid deliveries of bootleg shandies.
The Geep has an IQ so high it is untestable and attempts to measure it have resulted in dangerously unstable results as well as injuries to researchers. Coincidentally, he publishes intelligence tests as a side gig.
His sarcasm is so highly developed it borders on the psychic, and he is often able to insult a person even before meeting them. 'Puter enjoys hunting small game with 000 slugs and punt guns, correcting homilies in real time at Mass, and undermining unions. 'Puter likes to wear a hockey mask and carry an axe into public campgrounds, where he bursts into people's tents and screams. As you might expect, he has been shot several times but remains completely undeterred.
He assures us that his obsessive fawning over news stories involving women teachers sleeping with young students is not Freudian in any way, although he admits something similar once happened to him. Uniquely, 'Puter is unable to speak, read, or write Russian, but he is able to sing it fluently.
Geep joined the order in the mid-1980s. He arrived at the Castle door with dozens of steamer trunks and an inarticulate hissing creature of astonishingly low intelligence he calls "Sleestak." Ghettoputer appears to make his wishes known to Sleestak, although no one is sure whether this is the result of complex sign language, expert body posture reading, or simply beating Sleestak with a rubber mallet.
'Puter suggests the Czar suck it.