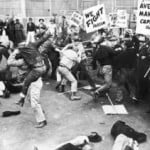 Here's 'Puter's update to this post, as promised. 'Puter had intended to merely post an update to his earlier post, but in re-reading the letter, 'Puter decided it required a post of its own.
The letter's author is Mr. Bill Barmettler of Chehalis, Washington. The delightful Mr. Barmettler writes:
I was very disappointed to read Joe Klein's analysis of Governor Scott Walker's union bashing in Wisconsin — and I always agree with Joe ["As Goes Wisconsin … So Goes the Nation," March 7]. I'm sorry, but if there are instances of public-employee unions' [sic] abusing their "power," they are inconsequential compared with the abuse of power that the tea baggers and their corporate masters (the Koch brothers' [sic] being exhibit No. I) are prepared to inflict on the middle class. If the Koch brothers get their way in Wisconsin, the middle class will not exist, and Democrats will lose one of their strongest allies. I'm a union member i n the private sector. At 29 years of service, I was fired by a batch of new bosses. I got my job back; the union paid for the attorney who helped me. The bosses, who were getting ready to fire several other people before I won my case, were shown the door. Unions are far from perfect. At times I feel my union leaders are incompetent. But unions are a crucial counterbalance to unbridled capitalism. If they are gutted, violence may be necessary in the future to refight the same battles we thought we'd won.
There is so much wrong with this letter it's difficult to know where to start. 'Puter will leave aside for the moment the horrible use of apostrophes in the missive (see the two "sics" in the letter, above), because 'Puter doesn't know whether it's the irrepressible Mr. Barmettler's fault, or that of Time's crack editors who think "tea bagger" is just hunky-dory to use in polite conversation. Let's dissect Mr. Barmettler's magnum opus.
Let's see. 'Puter's going to write a letter to time complaining about an article that correctly paints public sector unions as obstruction organizations bent on sucking the taxpayer dry. Where to start? Oh yeah! Suck up to the author Joe Klein, and use a familiar form of address. Opinion writers lap that up. ["… and I always agree with Joe."].
Now, how best to phrase my disagreement? I know! Ignore the entire gist of the piece and change the subject to something I want to talk about! Sure, public sector unions abuse their power, but that's not really important, because I totally agree with them. By the way, have you seen what the KOCH BROTHERS AND THOSE EVIL TEA BAGGERS ARE UP TO?!? THE KOCH BROTHERS AND THE TEA BAGGERS ARE GOING TO DESTROY THE ENTIRE MIDDLE CLASS USING SOME REALLY BAD YET UNSPECIFIED MEANS, INVOLVING THROUGH INFERENCE BECAUSE I CAN'T STRING TOGETHER A COHERENT ARGUMENT) THE DESTRUCTION OF UNIONS!one!!!1!1!! ZOMG!!!1! OH NOES!!!1!eleven!!!
Interestingly, at this point, Mr. Barmettler makes the point that Gov. Walker has been making since he began his run. Democrats are in thrall to the public sector unions, who use taxpayer funded mandatory union dues to pay off politicians with campaign contributions, which Democrat politicians then grant the unions everything they request in subsequent contract negotiaitions. ["… and the Democrats will lose one of their strongest allies."] . Genius.
Now, so as not to appear completely in the tank for unions (which I am, but Time will never figure it out), I'll bash my own union leaders as "imcompetent." But I don't want my union buddies to get mad at me, so I'll tell a story about how my union saved my job, while omitting all the salient factors. I'll just leave the reader to wonder whether I was fired for gross incompetence, theft, laziness, rule-breaking, insubordination or some other less nefarious reason. I'll even throw in that I got my bosses fired, but provide absolutely no substantiation for my irrelevant story. All that's important is that unions are good. OK. What's next?
I'll make a point that is absolutely inapplicable to public sector unions, which are the subject of Mr. Klein's story. You know, the story that I'm writing to complain about in the first instance. I'll write "… unions are a crucial counterbalance to unbridled capitalism." The readers (and Time's editors) will never figure out that the government is about as far removed from capitalism as one can get in this country. Heck, public workers don't have to worry about profit, or shareholder meetings, or boards of directors, or competence, or quality, or actually building a product someone would willingly pay for. No one will realize that unlike the private sector, the public sector funds its operations through an involuntary transaction. The public sector figures out how much money it would like to have, then takes it from the taxpayer through the threat of violence. And speaking of violence, let's work up to my brilliant concluding statement!
"If they [unions] are gutted, violence may be necessary in the future to refight the same battles we thought we'd won." Man, that's just the best closing sentence EVAH! I'll show everyone how great unions are, and how stupid those poopy-headed tea baggers and Koch brothers are, by threatening to use violence to achieve my goals! The threat of violence in support of my argument will make me appear rational and level headed.
'Puter's small mind is still reeling from the incoherence of this letter, not to mention the not-so-subtle threat of union violence therein. For Time to give this sort of letter a national audience is irresponsible, and telling. It's irresponsible in that publication of violent threats encourages similar behavior in other unhinged folks. It's telling, in that Time found nothing objectionable about the letter.
Time sucks. Q.E.D.

Always right, unless he isn't, the infallible Ghettoputer F. X. Gormogons claims to be an in-law of the Volgi, although no one really believes this.
'Puter carefully follows economic and financial trends, legal affairs, and serves as the Gormogons' financial and legal advisor. He successfully defended us against a lawsuit from a liquor distributor worth hundreds of thousands of dollars in unpaid deliveries of bootleg shandies.
The Geep has an IQ so high it is untestable and attempts to measure it have resulted in dangerously unstable results as well as injuries to researchers. Coincidentally, he publishes intelligence tests as a side gig.
His sarcasm is so highly developed it borders on the psychic, and he is often able to insult a person even before meeting them. 'Puter enjoys hunting small game with 000 slugs and punt guns, correcting homilies in real time at Mass, and undermining unions. 'Puter likes to wear a hockey mask and carry an axe into public campgrounds, where he bursts into people's tents and screams. As you might expect, he has been shot several times but remains completely undeterred.
He assures us that his obsessive fawning over news stories involving women teachers sleeping with young students is not Freudian in any way, although he admits something similar once happened to him. Uniquely, 'Puter is unable to speak, read, or write Russian, but he is able to sing it fluently.
Geep joined the order in the mid-1980s. He arrived at the Castle door with dozens of steamer trunks and an inarticulate hissing creature of astonishingly low intelligence he calls "Sleestak." Ghettoputer appears to make his wishes known to Sleestak, although no one is sure whether this is the result of complex sign language, expert body posture reading, or simply beating Sleestak with a rubber mallet.
'Puter suggests the Czar suck it.