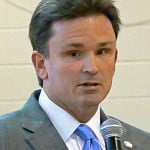 And so Chicago police superintendent Jody Weis's contract came to a natural end this week, and to no one's surprise, it was not renewed. Evidently, he didn't even get a phone call about it. One imagines he came into work one morning and there were two boxes on his desk.
To catch the non-Chicago readers up (which is all but a handful of you), the Chicago Police Department (CPD) was having a helluva time catching a break. There seemed to be a rash of video evidence of Chicago cops beating on people, and the crime rate was going up while, nearly everywhere else, it was decreasing.
So Mayor Daley decided that a good part of the problem was the internal hiring processes—superintendents were coming from within, and there is a natural tendency for an internal promotion to cover for his guys. The CPD agreed that hiring from the outside would probably be a good idea.
Unfortunately, the guy they picked was Jody Weis. Weis was a pretty capable guy with tons of experience with the FBI, and by all accounts, he did an admirable job for which he can be quite proud.
The Czar does not know how many FBI agents the reader knows, but he has met a few. The Czar likes the FBI, because he did an odd job for them in the past that he still does not both talking about. Oh and (true story) they were very nice to his wife when they came to our dacha to ask questions about some missing kids in the neighborhood. The Czar was out, but she covered for him quite nicely.
Anyway, the bottom line is that FBI agents are not police officers. They may live under the umbrella of law enforcement, but the methods, roles, goals, and cultures are remarkably different. Also, the personalities are not the same: to be perfectly blunt, it is hard to tell an FBI guy anything. They know it already. If you disagree, you are wrong.
Now put a guy like that in charge of a centuries-old collective of Irish tough guys. Weis didn't know the city. He had no street experience. He probably was never urinated on by a drunk, nor had to deal with a knife-wielding wife trying to cut you for arresting her husband that tried to stab her.
And he proceeded to tell the cops why they were wrong about everything, from domestics to street gangs, to drug dealers, to booting illegally parked cars. When explosive allegations would occur about a cop's behavior, Weis would issue an inappropriate comment about cop behavior rather than say "We will look into it." This was perceived as a major offense to the guys in blue: look, if the cop is wrong, he's wrong. But check into it first, rather than make a glib comment to the press that prejudiced a future jury pool.
His choice to negotiate with gang leaders was perceived as a bad move, a strategy given to him by a flagrantly liberal college professor. Did it work? Not really. He always seemed to be one or steps behind the news, looking fearful in press conferences and surprised by questions. Supporters for Weis say that he brought the crime rate down; in reality, this was falling nationally and should have been much lower than it was anyway.
Weis is probably a really nice guy; but the FBI approach to local law enforcement is a bad move, and he will be the scapegoat forever for it. We wish him luck in his next endeavor: he didn't get any in Chicago.

Божію Поспѣшествующею Милостію Мы, Дима Грозный Императоръ и Самодержецъ Всероссiйскiй, цѣсарь Московскiй. The Czar was born in the steppes of Russia in 1267, and was cheated out of total control of all Russia upon the death of Boris Mikhailovich, who replaced Alexander Yaroslav Nevsky in 1263. However, in 1283, our Czar was passed over due to a clerical error and the rule of all Russia went to his second cousin Daniil (Даниил Александрович), whom Czar still resents. As a half-hearted apology, the Czar was awarded control over Muscovy, inconveniently located 5,000 miles away just outside Chicago. He now spends his time seething about this and writing about other stuff that bothers him.