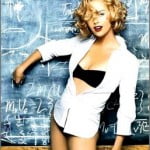 Amidst all the public union foofaraw in Wisconsin and elsewhere, we hear the same mantra over and over. Teachers are underpaid relative to the private sector. 'Puter always responds the same way. How do we really know what a teacher is worth? There are no market forces at all in the salary negotiation/establishment process. Heck, the process isn't even limited by what taxpayers can afford. Still, it's a fair question. What are teachers worth?
'Puter was drinking and thinking last night, and came up with the following plan. 'Puter understands it is unrealistic in that (1) it depends on teachers to be honest, (2) it depends on union cooperation and (3) 'Puter came up with it after his ninth Scope and soda, but it's the best he could come up with. Here goes.
Teachers would be told up front that the survey is part of data gathering, and it would not have any impact whatsoever on their current contract, work rules, regulations or laws. 'Puter only puts this forth as a condition because he expects the unions would insist upon such a restriction in order to cooperate. The survey wold be prepared and run by an independent accounting/auditing/survey firm chosen by the school district, the teachers union and the researcher. The researcher would have the tie-breaking vote in the event of a stalemate, as he would have the least inclination to game results.
All similarly situated teachers in a given school district would be required to anonymously bid on jobs. That is, they would be required to bid on each job for which they were qualified/certified throughout the district, not merely in their own building. In areas such as New York where counties may have 15 or more individual school districts, all the districts would be aggregated into larger units based on counties or metropolitan areas. The teachers would be instructed that the low bid would receive the job. 'Puter would be OK with considering floors on bids based on years of experience, such as "for teachers with more than 5 years of experience but less than 10 years experience, the lowest bid that can be accepted for this position is $x", where "$x" is a figure meaningfully lower than the current salary for such position. In no event would any floor be less than the current district entry level salary.
For example, Miss Buxom teaches high school math. She is certified to teach any of the high school math disciplines, from algebra to AP Statistics. She would be required to state for each high school math position in the district, in "good" schools and "bad" schools, the minimum amount she would take to perform her job teaching the specific subject in a specific location.
For Miss Buxom, and for most other teachers, there is likely a premium in maintaining her current position, so she may bid lower on her job than one across the county. Further, bids would take into account the building environments as well (administration, discipline, crime, etc.).
'Puter would expect to see lower bids in "better" school districts, as work conditions are (usually) good. Conversely, 'Puter would expect to see high bids on urban/dangerous jobs, as most people currently working elsewhere in the district would not want those jobs. 'Puter is uncertain what effect would be shown for rural versus suburban/urban jobs, though he expects that bids would be higher for rural than suburban jobs, but not as high as for urban jobs.
This experiment would not attack the inherent unfairness in the current seniority system (LIFO, pay by age), or in paying gym teachers on the same pay scale as folks with advanced physics degrees, but it would be a start. And it would likely result in a strong case for building-specific pay.
'Puter thinks his experiment would start to establish market values for teachers' jobs and would likely strengthen teachers' (legitimate) case for higher pay in urban areas. Teachers' unions may think it the least bad of all their choices available, as the survey would involve only union members who are in theory intimately familiar with the district and its reputation. Members shouldn't mind participating as the results would be anonymous.
'Puter hasn't figured out how to adjust for the natural inclination of teachers to spike salaries well above current levels. Perhaps, give a set aggregate amount to each teacher to bid on all the jobs, such as "your current salary of $x multiplied by y, where y equals the number of jobs on which you will be bidding."
'Puter would love to discuss this with an economics Ph.D. candidate or even a professor. His experiment would be intriguing, and the data retrieved would have real-world applications. Heck, 'Puter should run his own danged experiment and bask in the glory associated with his sure to follow Nobel Prize in Economics. Take that, liberal shill Dr. Paul Krugman!
Someone's probably already thought of this experiment and run it, or has a million good reasons why 'Puter's idea is flawed. Either way, or if you have feedback, 'Puter would love to hear it.

Always right, unless he isn't, the infallible Ghettoputer F. X. Gormogons claims to be an in-law of the Volgi, although no one really believes this.
'Puter carefully follows economic and financial trends, legal affairs, and serves as the Gormogons' financial and legal advisor. He successfully defended us against a lawsuit from a liquor distributor worth hundreds of thousands of dollars in unpaid deliveries of bootleg shandies.
The Geep has an IQ so high it is untestable and attempts to measure it have resulted in dangerously unstable results as well as injuries to researchers. Coincidentally, he publishes intelligence tests as a side gig.
His sarcasm is so highly developed it borders on the psychic, and he is often able to insult a person even before meeting them. 'Puter enjoys hunting small game with 000 slugs and punt guns, correcting homilies in real time at Mass, and undermining unions. 'Puter likes to wear a hockey mask and carry an axe into public campgrounds, where he bursts into people's tents and screams. As you might expect, he has been shot several times but remains completely undeterred.
He assures us that his obsessive fawning over news stories involving women teachers sleeping with young students is not Freudian in any way, although he admits something similar once happened to him. Uniquely, 'Puter is unable to speak, read, or write Russian, but he is able to sing it fluently.
Geep joined the order in the mid-1980s. He arrived at the Castle door with dozens of steamer trunks and an inarticulate hissing creature of astonishingly low intelligence he calls "Sleestak." Ghettoputer appears to make his wishes known to Sleestak, although no one is sure whether this is the result of complex sign language, expert body posture reading, or simply beating Sleestak with a rubber mallet.
'Puter suggests the Czar suck it.