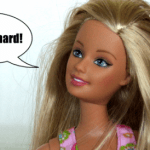 As Barbie once said, "Math is hard!" (Actually, Barbie said "Math class is tough!", but 'Puter likes the urban legend version better, so cope).
Democrats are the Party of Barbie. Math may be beyond their collective grasp, but spending other people's money is really easy for them. Poor Ken. Barbie's spent him into the poorhouse. Again. Taxpayers are the Democrats' Ken.
Democrats, liberals and assorted hangers-on are currently using the Barbie Gambit to great effect. Counting on Americans' resistance to internalize even the both basic mathematical concepts, Democrats are furiously engaged in changing the subject. For example:
House to half.

House black.


Curtain.


Light Cue 1.

Scene 1: Two Congressfolk, one Democrat and one Republican, are sitting in the cafeteria, discussing the day on Capitol Hill over bowls of navy bean soup. The conversation turns to the five month late budget, and the pending legislation before Congress.

Rep: We're spending too much money. We need to cut spending. Here's where we plan to cut. And we can't raise taxes, because they're already crushingly high.

Dem: They're cutting social security benefits! They're destroying collective bargaining! Big Bird and NPR will be no more! Tax the rich! The rich have all your money anyway! Halliburton!

Rep: That's not what we're saying. We're simply saying we can't spend more than we have anymore. And we can't tax more because it's ineffective. If you're so smart, where are your cuts?

Dem: Republicas are allied with Wall Street fat cats in cahoots with the Koch brothers and the reverse vampires to cut federal programs and to oil the machinery with the blood of the proletariat!

Rep: Nuh-uh!

Dem: Yuh-huh!

Rep: NUH-UH!!

Dem: You're a poopy-head!

Rep: No, you are!

Dem: Nuh-uh!

Rep: Uh-huh!

Ad infinitum. Fade to black.
And Republicans, to their everlasting shame, are playing right into the Democrats' hand by permitting the Democrats to change the subject.
America's math problem is simple, even though no politician will admit it. The problem can be phrased as follows (sorry, it's a word problem):
America has income of $x trillion. Assume as a fixed cost America's debt service of $x billion. Devise a budget for all remaining programs that spends less than or equal to ($x trillion – $x billion).
That's it. It is no more complex than that. Both Democrats and Republicans should be able to agree on this much.
Of course, there's a contingent of Democrats who think the answer to every question is raise taxes on the rich, but 'Puter's willing to bet the majority of Democrats know that raising taxes isn't going to work anymore. They may be loathe to admit it, but they know it in deep in their bleeding hearts. At least those who work for a private sector employer and therefore have at least a minimal understanding of such foreign concepts as "merit pay," "market forces," "recession," "competition," "outsourcing/offshoring" and "layoffs."
The contentious part comes once we've agreed on the size of the pot of money to be divvied up. Democrats and Republicans have different priorities. They will want to emphasize certain programs at the expense of others. Republicans are likely to favor scuh things as defense and infrastructure. Democrats are likely to emphasize social welfare programs. And that's fine. That's where the horse trading comes in.
We have to return to basic household economics. How much money do we have? OK, what must we spend money on? What are our needs? OK, now with the money left, what do we want to spend it on, based on what's most important to us? Now we're out of money, and still have stuff we'd like to do. I suppose we could max out our credit cards, and suck all the equity out of our house, cash in our 401ks and live large, but that's completely irresponsible and a one-way ticket to bankruptcy. I guess all those less important things we can't pay for this year will have to wait until next year.
It's the same with America. We can't decide what to spend money on unless we know how much you have to spend. We can spend only until we're out of money. And we can't continue to max out our credit cards (e.g., bond issues, tax increases) to finance wish-list items. National economic doom lies down that path.
So here's 'Puter's prescription. Every time a Democrat attempts to change the subject, change it back.
Gov. Walker in Wisconsin has been doing yeoman's work explaining why altering the collective bargaining balance is essential to balancing the budget this year and maintaining that balance in future years.
But 'Puter would be a bit more aggressive. He'd ask the teachers' unions in Wisconsin what specific budget items they are willing to cut in order to maintain their benefits. Make them put dollar-for-dollar savings on the table before even talking to them.
In forcing the unions to respond, Gov. Walker would show budgeting to be the zero sum game it is. Every dollar spent has to be taken from someone else's pocket. Could be the taxpayers. Could be the kids whose Head Start funding gets cut. Could be farmers who have to make do without crop subsidies. Could be Grandma who doesn't get Meals on Wheels anymore. But every dollar spent maintaining union benefits is a dollar that cannot be spent elsewhere. Put unions in a position where they must acknowledge the truth of the proposition, and watch public opinion turn.
But, this will never happen. Democrats are shameless panderers who have insisted for 50 years that we can have everything we want at no cost to ourselves. Someone else will pay for it all. They have lied, and will continue to lie, to preserve the dying system. Sadly, Republicans have not been bright or ballsy enough to effectively call the Democrats on their lies.
And that's why 'Puter, who can't remain on topic for more than two paragraphs, should be anointed benevolent dictator pro tem for America. He'd fix the problem, post haste.

Always right, unless he isn't, the infallible Ghettoputer F. X. Gormogons claims to be an in-law of the Volgi, although no one really believes this.
'Puter carefully follows economic and financial trends, legal affairs, and serves as the Gormogons' financial and legal advisor. He successfully defended us against a lawsuit from a liquor distributor worth hundreds of thousands of dollars in unpaid deliveries of bootleg shandies.
The Geep has an IQ so high it is untestable and attempts to measure it have resulted in dangerously unstable results as well as injuries to researchers. Coincidentally, he publishes intelligence tests as a side gig.
His sarcasm is so highly developed it borders on the psychic, and he is often able to insult a person even before meeting them. 'Puter enjoys hunting small game with 000 slugs and punt guns, correcting homilies in real time at Mass, and undermining unions. 'Puter likes to wear a hockey mask and carry an axe into public campgrounds, where he bursts into people's tents and screams. As you might expect, he has been shot several times but remains completely undeterred.
He assures us that his obsessive fawning over news stories involving women teachers sleeping with young students is not Freudian in any way, although he admits something similar once happened to him. Uniquely, 'Puter is unable to speak, read, or write Russian, but he is able to sing it fluently.
Geep joined the order in the mid-1980s. He arrived at the Castle door with dozens of steamer trunks and an inarticulate hissing creature of astonishingly low intelligence he calls "Sleestak." Ghettoputer appears to make his wishes known to Sleestak, although no one is sure whether this is the result of complex sign language, expert body posture reading, or simply beating Sleestak with a rubber mallet.
'Puter suggests the Czar suck it.