Massive Protests Coming! Dozens Expected.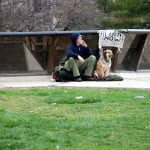 Yawn.
Well, that's better than a sigh, right? Anyway, apparently, there will be massive liberal protests across the entire nation on April 4th, to teach the bastards in Wisconsin a lesson not to mess with them!
Or so say a collection of liberal groups including the Communist Party USA, SEIU, AFL-CIO, and other parties of little surprise.
The Czar predicts that in Portland, Madison, Berkeley, and maybe one or two other places you can think of, they might see between 2,000-4,000 people. In New York, Chicago, and Seattle, maybe several hundred to 1,000 each. In a few other places such as DC, Boston, and Philly, maybe 200 – 500 people each, including the quads of major universities. And that'll be about it.
Meanwhile, the enormity percentage of the American public will want nothing to do with this crap. Seems that everytime there's going to be a massive liberal protest, the total amount of people participating nationwide would not even fill a single NFL stadium.
Because the Liberals That Matter are not bearded counter-culturists, comic book artists, or ill-smelling alternative book shop employees; they are either truck-drivin' haulers or carpenters or auto workers or turtlenecked college grads with slightly used copies of Jane Austen books on cedar bookshelves. The large majority of liberals are not actually into radical leftist politics, and many are put off by the thugs and slugs who defaced the Wisconsin Capitol building for weeks.
Most of them realize and accept that unions, while largely nice, are fighting for breath right now, and may not be around in 20 years in any recongizable form. And that further, they well appreciate that radicals seeking to collapse and shock the US economy are going to pretty much tango uniform their 401(k)s and force them to scrape coins while working until 75 or 80.
Basically, this "massive national protest" is being called by a minority of a minority of the minority. Sure, they will make the news—the media love a good liberal protest, which in turn they will exaggerate to look much better attended. And thousands of liberals will falsely claim they were there.
But odds are significant that on April 6th or 7th, you will think about this and say "Yeah, whatever happened with that?"

Божію Поспѣшествующею Милостію Мы, Дима Грозный Императоръ и Самодержецъ Всероссiйскiй, цѣсарь Московскiй. The Czar was born in the steppes of Russia in 1267, and was cheated out of total control of all Russia upon the death of Boris Mikhailovich, who replaced Alexander Yaroslav Nevsky in 1263. However, in 1283, our Czar was passed over due to a clerical error and the rule of all Russia went to his second cousin Daniil (Даниил Александрович), whom Czar still resents. As a half-hearted apology, the Czar was awarded control over Muscovy, inconveniently located 5,000 miles away just outside Chicago. He now spends his time seething about this and writing about other stuff that bothers him.