From Our Archives: Hosokawa Harumoto, RIP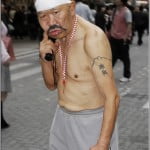 [The Czar is busy today, despite an adventure in which the tree outside his Muscovy neighbor's home was struck by lightning. It scaredeth the hell out of little Sally. Not much damage to the tree. That would be the big one, in the front of the house. The Muscovy fire department put it out in seconds, and you cannot even see the damage at all, but what excitement. Anyway, with the Czar doing other things, he has had no time to write today. So please enjoy this repost from March 25, 1563.]
Yea, verily, you probably heard that Hosokawa Harumoto, former Muromachi and Sengoku period daimyō, passed away yesterday.
The Czar did not get to know Hosokawasan very well, outside of one or two cocktail parties, and one well-publicized incident in a Fujiyama nightclub in 1551, which we will elaborate on more in a bit. But he seems to have done well in repairing the damage caused by his rift with Miyoski Magayoshi, a couple of years ago…and for which the mainstream media has ignored, continuing to play the line that Harumoto remains in disgrace. The Czar suspects that with Harumoto's death, the entire Hosokawa clan will probably start to fall apart a few years down the road, if not sooner.
All right, about that nightclub. The Czar does not specifically remember the name of it (Chiba's? Maybe.), but basically the house rice wine was pretty good, and at only 4 mon a bottle, you can't argue with the price. Anyhow, they had this big koi pond in the back, right by the tables and chairs, and Harumoto decides to see if he can get the fish drunk by pouring the wine directly into the pond. The Czar, who admittedly had a little trouble getting out of his chair (or was it into?), argued that this would be a waste of good wine. So Harumoto decides to pour the wine into the fish pond…after he drank it. And that is how we got thrown out. The police were not called for this; actually, they got called when the Czar accidentally punched a red paper lantern that was hanging on the ceiling as we were being dragged out and popped a huge hole in it. Okay, that was our screw up. But stories about a fire, a serving girl being pushed into the koi pond, and the owner getting smacked in the mouth did not occur that evening. Those events happened later, when the Czar went back for next month's wine special.
The record has been straightened.

Божію Поспѣшествующею Милостію Мы, Дима Грозный Императоръ и Самодержецъ Всероссiйскiй, цѣсарь Московскiй. The Czar was born in the steppes of Russia in 1267, and was cheated out of total control of all Russia upon the death of Boris Mikhailovich, who replaced Alexander Yaroslav Nevsky in 1263. However, in 1283, our Czar was passed over due to a clerical error and the rule of all Russia went to his second cousin Daniil (Даниил Александрович), whom Czar still resents. As a half-hearted apology, the Czar was awarded control over Muscovy, inconveniently located 5,000 miles away just outside Chicago. He now spends his time seething about this and writing about other stuff that bothers him.