When Children (Or Their Toys) Talk Back…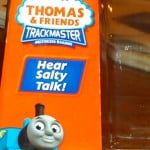 Now your Mandarin has been known to at times use "salty" language when describing modern progressivism, valet car parkers, and circus folk. But that still didn't steel me for the shock of the toy that your Mandarin's wife gave to our 3-year old nephew for Valentine's Day.
Apparently the makers of Thomas the Train think that it is appropriate to market a toy to young children that uses language you would hear from a drunken sailor. Well, as a consumer and a parent, your Mandarin finds this appalling and will make his displeasure know to those who market this type of smut to our children.
Update: Well it turns out that your Mandarin may have been a little too hasty in his chastisement of the manufacturer of this toy. Apparently the name of the train is "Salty" and he in fact does not use "salty" language. Your Mandarin apologizes for any inconvenience that this may have caused.

The Mandarin, whose real name is 吏恆, joined the order in 1309, and introduced the Gormogons into England during the 18th Century.
The Mandarin enjoys spending time with his pet manticore, Βάρἰκος, or Barry (who can be found in the Bestiary). When not in the Castle…well, frankly, nobody is quite sure where he goes.
The Mandarin popularized the fine art of "gut booting," by which he delivers a powerful kick to the stomach of anyone that annoys him. Although nearly universal today, the act of gut booting or threatening someone or something with a gut boot is solely due to him.