They Might Have Known Better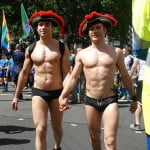 Common sense requires a balance.
The Mandarin and the Czar were speaking this morning about the disturbing story of four American missionaries executed by Somali pirates during a counterattack by the Navy. We are, naturally, angered by the story and would love nothing more than to see the inhumans responsible gaffed through the neck. Two are dead, and the Navy apprehended more than a dozen more.
The Czar agrees with comments that the United States, once, took no guff from pirates and was the first country in history officially to say enough to piracy. Because, for one thing, both of us detest the idea of living a life of fear and hiding out in hopes that danger cannot find you. Danger, as you know, is very good at finding people who hide from it.
Yet, at the same time, we wonder about the sanity of sailing a very impressive and well-furnished yacht through such dangerous waters. The Gormogons presently lack a blue water navy (it has been some time since we have had an update from our project manager there), but we do know some very serious ocean-going folk. One of them said, as far back as 1999, that the whole area of the Indian Ocean and even major portions of the South Pacific are simply No Go areas, unless you have a team of well-armed and well-trained crew on board.
Indeed, he added, he personally knew boat owners who would not travel into warm waters without stopping, handing each passenger and crew a weapon, and spending time learning to load, air, fire, and recover weapons. He himself would not sail out of the North Atlantic because piracy of this sort is so rampant. And again, that was a dozen years ago. But these victims, truth be told, probably were not the gun-toting crowd, and may have bet that God would protect them from their own naiveté.
So while some folks are calling for a return to Jeffersonian diplomacy (Pow! "Anybody else want to negotiate?"), there must be recognition that ill-armed but handsomely attractive target slow-moving watercraft is pretty damn stupid to sail through pirate-infested waters. The amount of ocean these guys cover is almost continent-sized. And the Navy, opinions to the contrary, is not a police force to show up and protect you when needed. You sail at your own risk.

Божію Поспѣшествующею Милостію Мы, Дима Грозный Императоръ и Самодержецъ Всероссiйскiй, цѣсарь Московскiй. The Czar was born in the steppes of Russia in 1267, and was cheated out of total control of all Russia upon the death of Boris Mikhailovich, who replaced Alexander Yaroslav Nevsky in 1263. However, in 1283, our Czar was passed over due to a clerical error and the rule of all Russia went to his second cousin Daniil (Даниил Александрович), whom Czar still resents. As a half-hearted apology, the Czar was awarded control over Muscovy, inconveniently located 5,000 miles away just outside Chicago. He now spends his time seething about this and writing about other stuff that bothers him.