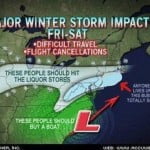 And you might ask what the media has been fixated on, lately. Going through the day's headlines, here is the schematic:
Egyptians are protesting because they want to be like America. And Mohammed El-Baradei is the best candidate to lead them over that bad Mubarek guy. Fortunately, the same wonderful transformation toward democracy is happening in other countries in the region. This can only be good news for us.
Sarah Palin is stupid and dangerous. And it is okay if you get tired of hearing about her being stupid and dangerous, because Michelle Bachmann is stupid and dangerous, too. Oh, and worse than Palin, she does not know how to read a teleprompter. Silly, conservative girls!
Guns need to be controlled. Okay, we tried a bunch of arguments after Tucson that the gun nuts tore apart in seconds. Forget those! Look, look: existing gun laws are not being enforced at gun shows. Now do you believe us?
Isn't is shocking about Charlie Sheen? Did anyone see this coming? And how is it possible that a Hollywood celebrity could become the character he portrays on a hit show? Even though a human life is potentially on the edge, the real question is: what will the fans of his over-extended television series do?
Barbara Bush has come out in favor of gay marriage! So we have one more child of the Bush adminstration coming out in favor of gay marriage! Gay marriage! Gay marriage! Also, Bush is stupid.
Chicago and all surrounding cities are about to be buried under 900 feet of snow! With thousand mile-an-hour winds dropping temperatures to millions of degrees below zero! People will be starving as it takes them months to dig out! How does this news affect New York and Los Angeles?
You might of course remember that the media is a template-driven worldview. Stories are cherry-picked to reinforce what their limited understanding is, and if you have evidence that goes against it, it must be ignored or re-written with the right spin. The Czar cannot wait to see what the next 15 years look like: with confidence in media accuracy at an all-time low, what great and useful changes await us?

Божію Поспѣшествующею Милостію Мы, Дима Грозный Императоръ и Самодержецъ Всероссiйскiй, цѣсарь Московскiй. The Czar was born in the steppes of Russia in 1267, and was cheated out of total control of all Russia upon the death of Boris Mikhailovich, who replaced Alexander Yaroslav Nevsky in 1263. However, in 1283, our Czar was passed over due to a clerical error and the rule of all Russia went to his second cousin Daniil (Даниил Александрович), whom Czar still resents. As a half-hearted apology, the Czar was awarded control over Muscovy, inconveniently located 5,000 miles away just outside Chicago. He now spends his time seething about this and writing about other stuff that bothers him.