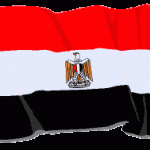 The Czar received this letter from Egyptian landmark Ḥusnī Mubārak. Evidently, the Czar was to have released this to the world media or something, but was under the weather and forgot. Instead of that, we will simply post it here without further comment.
To the Egyptian people from your glorious President Ḥusnī Mubārak, who sanctifies the ground of Egypt so much that worshipping me at my feet becomes an enjoyable experience,

I am your President, and today I announce that I am stepping down from power. By stepping down, of course, I mean that I am not leaving or relinquishing anything at all. Our vice-president, Omar Suleiman, will now be responsible for some important presidential responsibilities—such as sticking his head in the noose, and being the recipient of any shoes you throw.

In the meantime, I will continue to maintain some key functions of the Presidency, such as living in a number of glorious homes, being driven in expensive cars (you have no idea how much it costs to maintain some of these), and enjoying incredible dinners with celebrities every night. Alas, I cannot step down as President until we find some way, within our constitution, for me to continue to receive all of this at your expense.

To the protestors, I hear and feel for your grievances, quite a few of which I believe are legitimate. In response to your demands, I am asking you to vacate the public spaces today or I shall have you gunned down like dogs. This great kindness I provide to you as a gift. In exchange for that gift, I ask only for your blind obedience for another twenty or thirty years.

To the military, I remain commander in chief—and this is something none of you can say. I understand that some of you think this is unfair, but remember that I can call in air strikes all day. I could do it now, if I wanted. This is not something that should just be turned over to some schmoe because he got more votes than me. You want this? You want someone who has never directed an air wing before to suddenly have this power? No, the fact is you need me as commander-in-chief because no one else has 30 years of experience doing it.

To the world leaders, I hear you. I keep getting your emails. I get tweets from the United States, whatever those are. You say you stand with the people of Egypt and are one with them. This part is true, because—like them—you have no say in what I do. You can all go pound sand. And if you need sand to pound, Egypt has it. And it is sanctified sand, which is something I have done for Egyptians by standing on it. You should all be so lucky.

And by lucky, of course, I mean doomed. I hope this clears everything up for you. Take care! Because I am still out there.

Божію Поспѣшествующею Милостію Мы, Дима Грозный Императоръ и Самодержецъ Всероссiйскiй, цѣсарь Московскiй. The Czar was born in the steppes of Russia in 1267, and was cheated out of total control of all Russia upon the death of Boris Mikhailovich, who replaced Alexander Yaroslav Nevsky in 1263. However, in 1283, our Czar was passed over due to a clerical error and the rule of all Russia went to his second cousin Daniil (Даниил Александрович), whom Czar still resents. As a half-hearted apology, the Czar was awarded control over Muscovy, inconveniently located 5,000 miles away just outside Chicago. He now spends his time seething about this and writing about other stuff that bothers him.