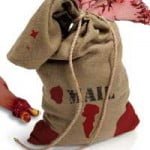 The messages have been piling up around here. If you noticed during the Super Bowl game the weird flashing lights during the Black Eyed Peas show, you probably noticed they tapped out a Morse Code message using the Syriac alphabet. Translated, we get this message from Mallethead:
Dear Czar –

With all due respect, to the learned Czar 🙂

The internet story of the Nepalese Superhero is a manifestation of the human condition. To wit (lifted with attribution):

Mad Max (1979)
Fifi: They say people don't believe in heroes anymore. Well damn them! You and me, Max, we're gonna give them back their heroes!
Max: Ah, Fif. Do you really expect me to go for that crap?
Fifi: You gotta admit I sounded good there for a minute, huh?

There are more heroes in this world than just the four denizens of the Castle.
Four denizens? Well, there are five of us regulars, plus a few hundred Tcho-Tchos, the Sleestak, little Dat, our revivified Egyptian mummy butler…heck, there are a lot of denizens in the Castle.
Dr. J. moved the stars to spell this one out.
Interesting post on the Corner.

Who do you believe, the the incompetent and dishonest Treasury Secretary, or someone else (not otherwise specified)?

I'd trust Loki before I believe Geithner on matters economic…

Love to hear y'alls thoughts.

Dr. J
The Czar thinks that Senator Toomey has a point; it may not be true, or it may be quite critical. Either way, the foolish response of Sec. Geithner leaves a bad taste in everyone's mouth. The national debt is not like a mortgage. It is more like one of those credit services who buys your debt, pays it off for you, and then charges you the amount plus more interest, but in outlandishly more favorable terms for you. It is an aggregate of all other debts. Secretary Geithner's belief that the government has other, equally pressing debts is a bad one. Instead, he is conflating paying down the debt with paying monthly bill. By the way, we aren't doing that, either. Once again, Geithner utterly fails to impress.
Curiously, if you line up millions of dollar bills and render their serial numbers into ASCII, you get this note:
Great post on the horrible spectacle at the Super Bowl. I too loathe the pop star renditions of the National Anthem. I looked up the >YouTube of Jim Cornelison and agree that is one of the best. Here at two of my favorites: The combined Academy choir's:
…and Cher who can actually sing the anthem in a register everyone can sing in:
I have to add that the half time show reached a new level of bizarre. I know I'm getting old but I didn't get anything that went on during half time. The Black Eyed Peas looked like someone's Star Trek acid trip and the dancing block heads in lighted suits were just plain stupid. You would think that Usher would be able to afford a better tailor than the one MC Hammer used to use. The folks gathered at my house were entertained but not for the reasons the producer intended. We pretty much laughed through the entire show because it was so ridiculous.

BTW, thanks for the great info on electric car efficiency. Very helpful and informative.

Your faithful VA reader,
FJR
Thanks for the kind words. Of course, you understand now that the entire Black Eyed Peas light flashing thing was a message to us from Mallethead. So that we understand (although what spooked Mandy is beyond our ken). Anyhow, you are quite welcome for the electric car information, even though GorT urinated all over it. This is what happens when you deal with engineers: you use someone else's established formulas and numbers, and they attack you for not factoring in their variables. This is why fantasy football is killing sports.
On a thankfully unrelated note, we received this from JAB, who used trained flocks of geese to spell out letters. This took a long time to copy down, and those geese—boy howdy, were their arms tired:
Your Czarness:

In a bid to avoid another cuffin' from Your Czarness for failing to write in regularly enough, I hereby clutter your in-box….Bet that'll teach 'ya!

I read with interest Mr. MH's psychological exploration of "Palin Hatred." Man, for a foreigner, he sure does speak good English! I was particularly impressed that he could use " high falutin' book-learnin'" in a grammatically-correctly way, and liked his affectionate depiction of the formidable Mrs. M and her, um, high-spirited boys.

The behaviour of "the left" as similar to that of spoiled children is spot on. It certainly explains the media's temper tantrums and vitriol, because no creature on earth puts on such a performance as a spoiled little prince or princess who has just been informed that he will not get his way.

But I'm not sure I can go along with you on the idea that "…successful conservative women represent MOM in the liberal amygdalas: something to be feared instantly because of their power…." Mr. MH would know better than I, but I'm not sure the rambunctious boys on the bus feared Mrs. M so much as they respected her. A lady such as he described would have tolerated nothing short of respect. She probably couldn't have cared less if her charges liked her, because that would have been immaterial to her responsibility to safely transport them to and from the big city. Unruly behavior on the bus would have made her job harder, and she didn't need that. So why put up with it? In short, she was a grown-up, an adult. She drove her bus her way (cue Frank Sinatra), and those rapscallions on the bus dern well knew it.

Spoiled children, from what I've seen, manipulate the so-called-adults in their lives, and most especially their mothers. These women appear to crave approval from their children. It is the children who exercise power, not the other way around. Betcha that WolfMother in the photo wouldn't take no guff from a pup, now would she?

Yours from the Doublewide, JAB
Well, the IQ level around here is getting to be too much for one night. No doubt by reading this entire page, your own IQ has shot up several hundred points as well.
All takers, all subjects. Come on, now: write in!

Божію Поспѣшествующею Милостію Мы, Дима Грозный Императоръ и Самодержецъ Всероссiйскiй, цѣсарь Московскiй. The Czar was born in the steppes of Russia in 1267, and was cheated out of total control of all Russia upon the death of Boris Mikhailovich, who replaced Alexander Yaroslav Nevsky in 1263. However, in 1283, our Czar was passed over due to a clerical error and the rule of all Russia went to his second cousin Daniil (Даниил Александрович), whom Czar still resents. As a half-hearted apology, the Czar was awarded control over Muscovy, inconveniently located 5,000 miles away just outside Chicago. He now spends his time seething about this and writing about other stuff that bothers him.