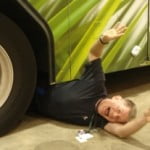 The potential for radical Islamic ascendency in allied nations in the Middle East given the current protests and chaos goes without saying. The events in Egypt are more reminiscent of 1979 than 1989 despite the mainstream media's ignorant reporting, especially with the Muslim Brotherhood suggesting tearing up the Camp David peace treaty, the only good thing President Carter accomplished, and all he did was serve drinks to Begin and Sadat at Camp David.
That being said, I am horribly disheartened by the Obama administration's desire to throw Israel under the bus at the United Nations over 'settlements.'
In my mind, it's really simple. Israel was attacked in 1967 and 73. They claimed land from their attackers in order to make their borders DEFENSIBLE. If these countries didn't want to forfeit land, they shouldn't have attacked the sovereign nation of Israel. The truth is is that Israel really doesn't care about her neighbors and would leave them alone, if they wouldn't keep attacking her. The fact that they've offered some land back as an olive branch is noteworthy. Wrongheaded, but noteworthy.
We need to be standing by our friends and even get out of the UN given their perpetual antisemitic nature.
Warmest Regards,
Dr. J.

Божію Поспѣшествующею Милостію Мы, Дима Грозный Императоръ и Самодержецъ Всероссiйскiй, цѣсарь Московскiй. The Czar was born in the steppes of Russia in 1267, and was cheated out of total control of all Russia upon the death of Boris Mikhailovich, who replaced Alexander Yaroslav Nevsky in 1263. However, in 1283, our Czar was passed over due to a clerical error and the rule of all Russia went to his second cousin Daniil (Даниил Александрович), whom Czar still resents. As a half-hearted apology, the Czar was awarded control over Muscovy, inconveniently located 5,000 miles away just outside Chicago. He now spends his time seething about this and writing about other stuff that bothers him.