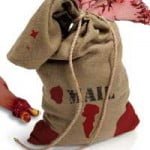 Now hold on a minute. I thought there was evidence that when the poles switch, the field is "disorganized" or non-existent for some period of time.

Not to take issue with your overall point, but rather to ask you to note that if they do, the field might go away for some time in the process. Purely in the interests of SCIENCE!!!

vty,

nzc
The magnetic field of the earth fluctuates on an almost constant level; in fact, good orienteering folk know to check their compass reference from time to time just to ensure they are still lined up right.
But to be clear, there is a popular confusion. There is the issue of geomagnetic reversal—the swap between North and South, which appears to have happened a few times not only in Earth's history, but once or twice (perhaps) in our species' history. The process seems to take far longer than the news media is reporting. We don't know, because this predates even Volgi, but the evidence points to such a switch taking a very long time to happen. We may be witnessing it right now, at its slow pace. But the fact we are still here (even the birds and gophers and duckies and horsies, too, 'Puter) pretty much validates the widespread conclusion that it is not fatal to life on earth. Inconvenient perhaps, but not fatal.
Should this happen, the magnetic lines might take a while to re-establish themselves in a permanent way, but they do not outright disappear. Compasses will go screwy for a while, and the Czar, for one, will take delight in watching flocks of Canada geese migrate eastward into Boston until they figure out something was odd, but these fluctuations should soon stabilize into predictable lines of declination.
On the other hand, there is a pseudo-theory called Cataclysmic Pole Shift running around. This has nothing to do with the natural movement of the North Magnetic Pole, but is tied to end-of-days new agers, who say that history "shows" that poles have dramatically flipped in the past, and mass extinctions have occurred. The science on this, one has to say, is really weak. The basis began in a legitimate 19th Century attempt to explain the different orientations of magnetic lines in rocks in different locations back before we understood that plate tectonics can move continents around, et cetera. This was the last time real science touched the topic until it was rediscovered by non-scientists and whackjobs in the 1970s and 1980s. They looked at the old theory, ignored current research, saw that mass extinctions occur on earth and linked it all up. Unfortunately, it is this carryover nonsense that is being conflated with the real, natural, and normal NMP wandering we are seeing.
Now, just so our wise readers understand, the Czar does not believe NZC is confusing the two theories. Actually, NZC is referencing a very real physical effect: when you reorient magnetic poles, the lines of force reorient themselves in often hard-to-predict ways until everything sort of stabilizes. But if we subtract the idea that pole shift on the earth happens catastrophically, the instability becomes considerably less worrisome. Cheer up, everybody! With 2012 around the corner, a lot of people are worried it will be the end of everything they know.
That could be true, if they are Democrats.
BG writes in:
Most Dread and Awful (or is it Awesome?) Czar—

I grotesquely enjoyed Dr. J's missive about Wisconsin doctors handing out "too-sick-to-work" excuses like Halloween candy to teachers who were not too sick to stand outside in the cold screaming their idiot heads off. They gleefully throw all medical ethics into the dumpster in order to support a political cause.

Then this morning I saw on the news that the state of Colorado is considering enacting limits on the amount of THC an automobile driver may have in his blood. Perhaps it's because sometimes people who've been smoking medical marijuana get into fatal motor vehicle accidents.

And then I put those two items together and asked myself, "How many doctors gleefully throw all medical ethics into the dumpster to support the political cause of outright legalization of marijuana? How many doctors knowingly write medical marijuana prescriptions for perfectly healthy people?"

I would have thought "none" until this week.
It is a good question. And the Czar has no idea and would welcome thoughts. The Czar's suspicion is that the percentage of doctors who would ditch ethics for a political point is incredibly small. Possibly, even smaller than the percentage of civilians who would ditch their ethics for a political point—the Czar would put that number as high as 20 percent. At least based on voting records.
That a few doctors would do this is inevitable, just as we recently learned that a serial killer who gets off on killing infants could find work in an abortion clinic a perfect gig. The Czar might think that non-medical doctors are more prone to do this in research: there seems to be a growing collection of confirmation biased studies about how wonderful marijuana is for all sorts of daily functions. Of course, they are refuted on scientific grounds almost immediately, but you get the idea.
The Czar would also like to apologize to BG for the lack of a reply on this topic; somehow, your email got buried in a directory we hardly check. We have no idea how it got there, but hope you didn't think we were ignoring your note!

Божію Поспѣшествующею Милостію Мы, Дима Грозный Императоръ и Самодержецъ Всероссiйскiй, цѣсарь Московскiй. The Czar was born in the steppes of Russia in 1267, and was cheated out of total control of all Russia upon the death of Boris Mikhailovich, who replaced Alexander Yaroslav Nevsky in 1263. However, in 1283, our Czar was passed over due to a clerical error and the rule of all Russia went to his second cousin Daniil (Даниил Александрович), whom Czar still resents. As a half-hearted apology, the Czar was awarded control over Muscovy, inconveniently located 5,000 miles away just outside Chicago. He now spends his time seething about this and writing about other stuff that bothers him.