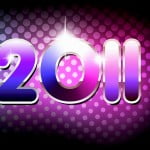 The Big G wishes you, your friends, and your family a very happy and prosperous new year. We should start the day off right with a list of predictions for 2011. Anyone interested in betting against these?
The President will express outrage and anger, and direct it at the stupidity of the average American.
The preceding event will be dismissed as a communications problem.
Another quasi-racial scandal will occur within the administration.
The press will attempt to cover up a presidential gaffe.
China will do something provocative with their military.
Inspired, North Korea will threaten an imminent war with the South and this will make the evening news for a day or two.
Vice-President Biden will say something totally fatuous, and no one will react in a negative way toward it except on the internet.
A Democratic politician will be involved in a scandal, but dismissed as politics as usual. Further, the transgression will be exposed by an independent investigation.
A Republican politician will be involved in a scandal, and will be crucified by public opinion. This transgression will be exposed by the Republicans themselves.
A Hollywood celebrity will express an opinion against Sarah Palin in disgusting, repugnant manner.
Glenn Beck will find that George Soros is behind something. Probably.
Israel will be condemned by the press without any regard for the context, back story, or explanation for the event.
After a potentially pivotal event, the State Department will miss out on a golden opportunity to foster democracy in another country.
Another YouTube video of Chris Christie eviscerating a union schill become popular.
Local news will feature a story of animal courage, a conceivably dangerous application of a common child's toy, a charity facing hardship, and how one plucky man is turning economic hardship into an inspiring example for us all.

Божію Поспѣшествующею Милостію Мы, Дима Грозный Императоръ и Самодержецъ Всероссiйскiй, цѣсарь Московскiй. The Czar was born in the steppes of Russia in 1267, and was cheated out of total control of all Russia upon the death of Boris Mikhailovich, who replaced Alexander Yaroslav Nevsky in 1263. However, in 1283, our Czar was passed over due to a clerical error and the rule of all Russia went to his second cousin Daniil (Даниил Александрович), whom Czar still resents. As a half-hearted apology, the Czar was awarded control over Muscovy, inconveniently located 5,000 miles away just outside Chicago. He now spends his time seething about this and writing about other stuff that bothers him.