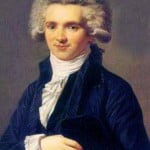 Friends and readers (often mutually exclusive), the Mandarin and the Czar will be taking our show on the road this week, starting this evening. We will be on the road for most of next week, and probably not posting up any of our wonderful essays until very late in the week.
Meanwhile, Ghettoputer, GorTechie will be entertaining and informative, and even 孔夫子,* the Œcumenical Volgi (The Notorious ŒV) will be forced to pick up the slack. No, don't even get me started. Meanwhile, please enjoy this reprinted post from 1794.
Well, in the name of progress, the idiot progressives in France have executed one of their own. By now you know that Max Robespierre was guillotined in a most grisly fashion on Monday. What a weird, ironic end for the guy who wound up largely responsible for the death of Louis XVI.
What irks the Czar—do not be mistaken, for Robespierre was an ass—was the shock and surprise offered by the French government: Robespierre, a progressive, wound up being a tyrant! Why, he was worse than the monarchy! How could this happen?!!! OmonDieu!!!!
Maybe it's because progressive cures start out nice but quickly wind up being worse than the illness. Seriously, it's like trying to kill an infection with high voltage. How does it get that way?
Well, looking at the French Revolution as a revolution, it sort of makes sense. These guys, despite their cult of reason, reforms, logic, and rationale, really have no freaking idea what they're doing. They are completely adrift in chaos…a chaos they started, by the way. Too many people making too many decisions about too many things…it is, ultimately, what only a tyrant succeeds at.
God help us if the progressives ever come to our shores. We might all wind up like Robespierre.
*For those who came in late, Confucius is the Gormogons' Œcumenical Volgi: the Ghost Who Falks.

Божію Поспѣшествующею Милостію Мы, Дима Грозный Императоръ и Самодержецъ Всероссiйскiй, цѣсарь Московскiй. The Czar was born in the steppes of Russia in 1267, and was cheated out of total control of all Russia upon the death of Boris Mikhailovich, who replaced Alexander Yaroslav Nevsky in 1263. However, in 1283, our Czar was passed over due to a clerical error and the rule of all Russia went to his second cousin Daniil (Даниил Александрович), whom Czar still resents. As a half-hearted apology, the Czar was awarded control over Muscovy, inconveniently located 5,000 miles away just outside Chicago. He now spends his time seething about this and writing about other stuff that bothers him.