OMG! Fear! Panic! Terror! Hysteria!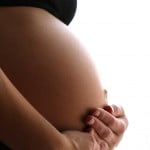 Can you imagine anything so horrible? A University of California, San Francisco (UCSF) study has found in a survey of 268 pregnant women that virtually 100% of them have dangerous, cancer-causing chemical in their blood and urine! OMG!
Pregnant women, if you do not already know this, tend to be the most easily terrified group of people on the planet. And sure enough, the San Francisco Chronicle has got Victoria Colliver ("A woman, just like me," pregnant women will say) putting up the scare factor. You know the theory that most television and printed news is targeted to terrify young mothers, right? You didn't?
So yeah, Ms. Colliver wants young pregnant ladies to know that their bloodstream holds all sorts of horrible chemicals, like Bisphenol A, PCBs, organochlorine pesticides, and anything else that sounds like it will produce children that look like a walrus. And naturally, there is the j-school mandatory bullet list of Things You Can Do to prevent this, including things you are doing already, like washing hands, quitting smoking, and eating properly. Purchase as many non-toxic products as possible—avoid lead-based dish sponges, perhaps. Here is a hint to the life-inexperienced Ms. Colliver: if an expectant mom is not doing those things, nothing on your pitiful list will make any difference to them. The Czar notices she did not oppose moms from drinking brown liquor.
And here is some additional news for her: even if a mom did all those things, the exact same amount of chemicals would still be in their bloodstreams in the exact same proportions. Why? We will get there in a bit.
But first, notice the odd comment:
The study focused on pregnant women because of the potential for exposure to multiple chemicals to hurt their unborn fetuses, but also looked at the data for nonpregnant women. The research did not follow the subjects to determine whether actual harm occurred.
Does it seem odd to you that they would not follow up? Yes, if you believe the study was in line with the context of the article; no, if you realize the scientists already know these chemicals typically have no effects whatsoever in the minute proportions they exist.
We are talking, of course, about chemicals measured in the ppm (parts per million). So a pregnant mom has a trace amount of PCBs? That might be like a multi-millionaire crying over finding a cruddy dime in her change purse.
And this gem:
Researchers noted that the levels of certain chemicals were actually higher in the nonpregnant women, suggesting that behavioral changes made during pregnancy such as not smoking, for the health of their unborn fetuses, or physiological factors might play a role.
What this means is pregnant women are actually safer, overall. And note that Ms. Colliver does not say "researchers suggest that behavioral changes made during pregnancy help mitigate this…which "suggests" to the Czar that the suggestion is made by Ms. Colliver herself.
Buried toward the end of the article are two interesting disclaimers, mostly made to provide what the media charitably calls balance:
The American Chemistry Council responded to the study with a statement that said biomonitoring research conducted by the U.S. Centers for Disease Control and Prevention has found the mere presence of a chemical in the body does not mean that it will cause negative health effects.

The group also said bodies naturally absorb organic and man-made chemicals, but technological advances now allow researchers to measure exceedingly minute traces of these substances.
Catch those? If not, (1) there is little chance these chemicals will actually have any negative effects, and (2) these tests are so sensitive that they can pick up a chemical picked up from anywhere. Basically, there's nothing you can do to prevent it, and there is no reason to be concerned either way.
But not so fast! Ms. Colliver has a quote from Dr. Sarah Janssen, who is worried that there is real risk here, and that fetuses could be transmorphed into squids by combinations of these chemicals! Dr. Janssen is a scary scientist, so be frightened moms!
On the other hand, Dr. Janssen works for the Natural Resources Defense Council, a political action group. She is a real MD in reproductive physiology, but her emphasis is on developing regulations against—why, against the very chemicals found in the study. Also important to note is that Dr. Janssen has nothing to do with the study: she is merely that necessary, potentially biased, extreme counterpoint needed to inject fear back into the story. Actually, if you research Dr. Janssen's impressive credentials, it seems unlikely that she would have such a brief response to such a study. Doubtless she provided considerable explanations, context, and qualifiers about the subject…all of which were not scary, and conveniently too long to print in their original wording. Yes, the Czar has done some work with the press, and found that his 90-minute explanations of things get reduced to a half-sentence of half-truth.
This leads the Czar to suspect this news article is based on very little understanding of what the actual scientific study was. And looking it over, you see the truth of it: the study was actually a survey to see what chemicals, and to what amounts, could be detected in the bloodstreams of pregnant women (and non-pregnant women as a control). The very conclusion of the study stipulates that not much can be gleaned about where the chemicals come from, or whether there needs to be action taken.
Whatever. We know chemicals are scary, and if we chop up Dr. Janssen's comments about each of the chemicals, we can turn this into something interesting! Indeed, the more you look at the original study, you realize that it forms only a small percentage of Ms. Colliver's article, and that extrapolation forms the majority of it.
Science! Is there nothing the media understands?

Божію Поспѣшествующею Милостію Мы, Дима Грозный Императоръ и Самодержецъ Всероссiйскiй, цѣсарь Московскiй. The Czar was born in the steppes of Russia in 1267, and was cheated out of total control of all Russia upon the death of Boris Mikhailovich, who replaced Alexander Yaroslav Nevsky in 1263. However, in 1283, our Czar was passed over due to a clerical error and the rule of all Russia went to his second cousin Daniil (Даниил Александрович), whom Czar still resents. As a half-hearted apology, the Czar was awarded control over Muscovy, inconveniently located 5,000 miles away just outside Chicago. He now spends his time seething about this and writing about other stuff that bothers him.