The Efficiency of Electric Cars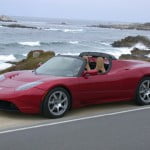 All-knowing and mighty Czar,

Just curious, do you have any information on the efficiency of energy conversion for electric cars? It's been decades since I took thermodynamics so I'm having a hard time wrapping my rapidly decaying old brain around the concept of electric cars being that much more efficient since they go through more energy conversions to produce kinetic energy.

FJR
Yes, in fact, we do.
Sorry for the long response: the Czar was busy proving to his ISP that their DNS service is useless.
Well, according to the folks at Tesla Motors, the number of conversions is about the same between gas cars, gas hybrids, and electric cars:
In other words, within the car itself, the answer is four conversions: source to storage, to engine, to forward motion of the wheels. But how many total conversions it takes to get crude into gasoline, or electricity from source to grid, is immeasurable since each gallon or watt will take different routes depending on your geography, local supply, local demand, and so on. But there are ways to estimate this.
And indeed your question was on efficiency of the conversion process. Thus, the Department of Energy has come up with a plausible metric for this called 'well-to-wheel" efficiency, or the efficiency of the process from pulling up crude oil to the forward motion of the car itself.
They measure this by using a kilometers per Megajoule approach. This is computed as follows—you take the efficiencies of:
— Natural gas recovery – 97.5%
— Gas processing – 97.5%
— Transmission recovery over the grid – 92%
— Conversion of AC into DC by the engine rectifier – 60%
(These are based on interesting numbers. The first two are based on worst-case industry averages, the second measures how much electricity actually makes it to your home between source and outlet, and the final number is based on the GE H-System combined cycle generator used in almost all electric cars.)
So you take the product of these efficiencies (1 X .975 X .975 X .92 X .6) and find that only 52.5% of the total power available in natural gas makes it to the wheels of your car. Now, what happens next depends on the car.
The car's total range at full charge is measured against this, which is based on how much power is used to overcome air resistance (drag), weight, and loss by the battery and multiply that times 52.5%, and you get your final km/MJ rating.
Interestingly, a roughly similar process can be used to compute values for internal combustion cars* and hybrids as well. And here is what you get:
— Tesla Roadster – 1.15 km/MJ
— Chevy Volt, electric – 0.81 km/MJ
— Honda Insight – 0.64 km/MJ
— Chevy Volt, hybrid – 0.61 km/MJ
— Nissan Leaf – 0.59 km/MJ
— Toyota Prius – 0.56 km/MJ
— Honda Civic VX, gas – 0.52 km/MJ
— Volkswagen Jetta, disel – 0.48 km/MJ
— Ford Escape, hybrid – 0.38 km/MJ
— Honda Civic DX – 0.38 km/MJ
— Chevy Volt, gas – 0.37 km/MJ
— H Fuel Cell – 0.35 km/MJ
— Honda FCX – 0.35 km/MJ
— Honda CNG – 0.32 km/MJ
— Toyota Corolla – 0.30 km/MJ
— Toyota Camry – 0.28 km/MJ
— Chevrolet Corvette – 0.25 km/MJ
— Ford Flex – 0.23 km/MJ
— Porsche 911 Turbo – 0.22 km/MJ
— Cadillac Escalade – 0.16 km/MJ
— Ferrari 550 Maranello V12 – 0.12 km/MJ
* The internal combustion formula is as follows: petroleum energy content is 46.7 MJ/kg (note the unit change!); production and transport to gas station efficiency is 81.7% times the km/l (mileage). Bottom line: 1 MPG = 0.013 km/MJ, if you want to see where your car falls in this list.
Higher numbers are better. And at this, the Tesla wins, with the all-electric Chevy Volt a fairly distant second…but still second.
But look what else you find: the Nissan Leaf is not much better than a Prius, and is actually pretty far behind a Honda Insight; so if you want to save gas and oil and spotted owls, the Honda is the better buy.
And let us go further: the typical hydrogen fuel cell protoype is actually less efficient, net, than a Prius, which itself ain't no great performer. And right behind that is Honda's FCX fuel cell, which is only a bit better than Honda's CNG natural gas vehicle. Looks like Honda is way better at building gas engines like the 1993 Civic VX.
And take a look at the Toyota Camry, which is nearly as good or bad as a Chevy Corvette as wasting gas—and the Ford Flex is less green than a Corvette!
Manufacturers are improving their numbers, for the most part, each year. Some of this information is already out of date, but if you make an electric car right—say the Tesla Roadster or the Chevy Volt—yeah. They do win for overall energy conversion efficiency.
They sure beat light rail.

Божію Поспѣшествующею Милостію Мы, Дима Грозный Императоръ и Самодержецъ Всероссiйскiй, цѣсарь Московскiй. The Czar was born in the steppes of Russia in 1267, and was cheated out of total control of all Russia upon the death of Boris Mikhailovich, who replaced Alexander Yaroslav Nevsky in 1263. However, in 1283, our Czar was passed over due to a clerical error and the rule of all Russia went to his second cousin Daniil (Даниил Александрович), whom Czar still resents. As a half-hearted apology, the Czar was awarded control over Muscovy, inconveniently located 5,000 miles away just outside Chicago. He now spends his time seething about this and writing about other stuff that bothers him.