Boring Sciency Stuff: But Will It Kill You?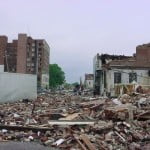 Dear Czar,

Shouldn't the title of this article be 'PANIC WE'RE ALL GOING TO DIEEEEE':

I am confused. However, I am coherently grateful for all of the recent Gormogon posts. Keep up the good work!

God Bless,

JS, Operative and Bachelor's Degree Owner
Well, JS, you are most very welcome for the continued quality of posts here—which frankly are so good it's no wonder people are ripping them off and posting nearly identical posts often days before we get around to it. But life is funny that way.
But to the article you provide. Yes, horrors! The North Magnetic Pole (NMP) is shifting position. This is entirely due to the Mandarin, and quite frankly, we should be grateful. Our calculations show that had it not been for his NMP Stabilizer EM Ray, all our compasses would be pointing toward Haifa, Israel, to the annoyance of travelers to Mecca worldwide.
In fact, you will be surprised to learn that the NMP is always moving around, often many miles, from year to year. And as it does, the lines of declination move as well. What? Sorry—declination is the variation between True North and Magnetic North. If you want your compass to point to True North, you need to offset it by turning its dial a couple of degrees.
Here in Muscovy, outside Chicago, there is a 0° difference, more or less. Our royal compass points True North. But in Seattle, it is off by 20°, so we turn the dial. In some populated parts of Alaska, it is as much as 60°, meaning those little ball compasses they used to put in cars years ago are pretty much worthless.
Moving the NMP around a few feet should not adversely affect compasses much. But this one was big: Tampa, for example, renamed its 18R/36L runway (due North and due South) to 18R/1L. To figure out what this means, multiple the numbers by 10. 18R means 180 degrees, or South. 36L means 360 degrees, which is also 0 degrees, or due North. The change in numbers means a 10° shift in declination.
If you keep watching this little video, you will see how Florida moved from 0° to -10° over time. The ticking numbers at the top are the year. The cause of the airport runway rename is a 35-mile shift in the NMP. Presently located North of Greenland in the Arctic Sea, the NMP is moving toward the very top of the world on its way, apparently, toward the Laptev Sea, above Russia.
We know why, and what it is so eager to find there, but we are not telling.
What is the practical upshot of this? Not much, unless you do orienteering. If you do, you will want to check your declination to ensure your compass is still pointing North. Remember: in the North Brazil Coastal area, your compass will actually point
And airplanes and ships. Today, modern aircraft and watercraft all use GPS, which is immune from this affect. GPS uses a network of satellite signals to triangulate your position based on the relative strength or weakness of each satellite's signal. But if, for whatever reason, a plane or ship were to lose its GPS functionality (say an irate passenger with a beard were to put an axe into the box), the captain will resort to old-fashioned compass usage.
And because of that, the runways in Florida need renaming.

Божію Поспѣшествующею Милостію Мы, Дима Грозный Императоръ и Самодержецъ Всероссiйскiй, цѣсарь Московскiй. The Czar was born in the steppes of Russia in 1267, and was cheated out of total control of all Russia upon the death of Boris Mikhailovich, who replaced Alexander Yaroslav Nevsky in 1263. However, in 1283, our Czar was passed over due to a clerical error and the rule of all Russia went to his second cousin Daniil (Даниил Александрович), whom Czar still resents. As a half-hearted apology, the Czar was awarded control over Muscovy, inconveniently located 5,000 miles away just outside Chicago. He now spends his time seething about this and writing about other stuff that bothers him.