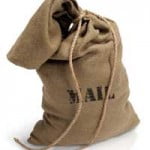 Uncle Jay sends us this, written in charcoal on the back of a corrugated PVC lawn sign:
O Cruel and Vicious Czar,

By the Grace of God, Emperor and Autocrat of All the Russias, of Moscow, Kiev, Vladimir, Novgorod, yadda yadda yadda—

This has got "Gormogons cover-up" written all over it….

You've got to be more careful.
Jay
(TBG at http://www.blogger.com/www.listen2unclejay.com)
Sigh. Here we go again. The Czar is just the Czar of Muscovy. Nothing else: he got screwed out of the rest of that pack by his cousin Danny, and everytime someone brings up Moscow, Kiev, and so forth it rubs salt in a wound.
Not the Czar is opposed to rubbing salt in wounds. Of other people, though.
Regarding the link, though, there is indeed a mildly amusing story behind that missing vial of VX. So like we're at the Leaping Peacock, right? And Volgi is about two glasses into a bottle of port (if memory serves, he likes a Hardy's Whiskers Blake tawny port) when he tilts forward and says "You know how 'Puter thinks he likes hot sauce, and really doesn't handle it well? We oughta give him some real hot sauce sometime." And so the Czar goes "Yeah, well, we can get some real hot sauce, and put it into that bottle of watered down hot sauce he keeps in the fridge." And so Volgi goes "Yeah?" And we go "Yeah!" And Volgi goes "Yeah?" And we go "Yeah!" again.
So then, (you're still following this, right?) we go over to Dugway Proving Ground in Utah, and we tell Loretta that we need a bottle of VX nerve gas, and she's like "Blah blah blah national security blah blah WMD crap." So the Czar says "It's for a joke on 'Puter," and suddenly she's like all cool about it and asks "Hot sauce?" "You know it," Volgi says, "We just need a little; we'll get the rest back," and she''s like "Whatever, but dude, I get outta here at five," and Volgi's like "It's all cool and whatever."
Then we go to the kitchen and find his hot sauce bottle, and we pour like half the VX into it. And Volgi starts freaking out, saying crap about how we were only supposed to use a little and whatever. "No problem," we say, "A little trick from the Mandarin when he stays at the nice hotels with the mini bars," and we go over to the sink and put tap water into the VX bottle and fill it back up.
And 'Puter comes into the kitchen, and we're all laughing and shit, and he says "What's the joke" and we don't know, so we tell him GorT caught Dat Ho in the three-D porn stash, and 'Puter starts laughing with us because he thinks that happened, and that the Czar is going beat the crap out of Dat, you know, and—swear to God—he finds these french fries in fridge and Volgi says they're his from the Peacock and they're still warm and he can have them, cuz you know 'Puter loves their fries, right? But they're never hot enough for him.
So 'Puter takes the bottle of hot sauce right, and our eyes are big as saucers, and he opens the bottle and is just about to pour it on his fries when he looks at the bottle. We thought we got busted, but then 'Puter starts going on about the effing unions this and the effing gun laws that, and he tilts the bottle…and then straightens it up and says he hasn't been getting enough sleep and whatever because of his back. We are dying laughing, because he's walking around the kitchen going on and on about whatever, with his bottle of sauce in one hand and the fries in the other but not putting one on the other.
Finally, he dumps the sauce and it comes out real fast, because it's cut with the VX, you know? And he puts the bottle back in the fridge and Volgi's thinking "Here we go," but instead 'Puter is walking around again telling some stupid story about a buddy of his who thinks Jesus would have let his disciples smoke pot if they wanted, and he isnt't eating the fries. Just when we are about to start screaming at him to eat a goddamned fry already, he grabs one and pops it in his mouth. He chews it for like a second, then he makes this nasty face. He grimaces at us, and we just bust out laughing. "You asses," he screams, "Did you put effing VX nerve gas in these fries?" Swear, we were on our knees, crying and shit. Volgi thought he popped a rib laughing so hard. "Holy crap," says 'Puter. "We totally got to get Mandy." So he takes the fries over to the Mandarin, but Mandarin heard us laughing and him yelling, and when he saw the orange gunk all over the fries he told 'Puter to go pound sand.
So now 'Puter's walking all over the Castle offering fries to people, but he can't keep a straight face, so just about everybody is telling him no thanks. He found some dumbass from Fresno over by the bar who thought they were Spanish fries or whatever, and finally got the guy to eat one. He died instantly, but then nobody else wanted to try it. So he left them by the bar, but the Tcho-Tchos took them and threw them in the woods along with the dude from Fresno.
Anyway, it's like Monday morning and Volgi says "Holy crap," and runs into the kitchen, and there's the bottle of VX still there on the counter by the microwave. So he takes it back to Loretta, and we heard she really hollered at him, saying that they were all over her about the missing bottle. But anyway it got back to Dugway, and apparently nobody know half of it is missing. God, we're crying laughing still thinking about it.

Божію Поспѣшествующею Милостію Мы, Дима Грозный Императоръ и Самодержецъ Всероссiйскiй, цѣсарь Московскiй. The Czar was born in the steppes of Russia in 1267, and was cheated out of total control of all Russia upon the death of Boris Mikhailovich, who replaced Alexander Yaroslav Nevsky in 1263. However, in 1283, our Czar was passed over due to a clerical error and the rule of all Russia went to his second cousin Daniil (Даниил Александрович), whom Czar still resents. As a half-hearted apology, the Czar was awarded control over Muscovy, inconveniently located 5,000 miles away just outside Chicago. He now spends his time seething about this and writing about other stuff that bothers him.