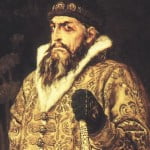 Hey, Czar. Nice bit on the metric system. I get why the metric guys go with zero for freezing, and 100 for boiling. But what's up with Fahrenheit? If water freezes at 32, what happens at 0 degrees Fahrenheit? And why is one degree only one degree?
Yeah, well, the Czar briefly met Dan the Man Fahrenheit. No, nothing spectacular—it was in a buffet line at a wedding. We merely exchanged brief pleasantries because (a) Danny had not yet worked out his temperature system and (b) the Czar was totally ass-faced on Kräuterlikör.
Anyway, the Czar admits he had to look this up, and also admits this is something you could easily have done. Dan, you see, was crazy about creating a temperature scale with 0° at pretty much rock bottom, temperature-wise. Except, back then, about the coldest thing he could reliably get to measure was brine water. Guess at what temperature brine tends to freeze at? 0°, as it turned out…because he decided that would be zero. Now, for the temperature gradations. Well, like Andy Celsius, he wanted to go with 100 degrees as well. But instead of the (ahem) more obvious choice of boiling water, Dan stuck the thermometer in his wife's armpit (he says). Or in her mouth. Probably armpit, then mouth. Anyway, he decided that average human body temperature is 100° F.
Except that it isn't. You know that it's 98.6°. So what happened there? You guessed it—he effed up his original estimate of the temperature brine freezes at by 1.4°. So rather than move 0 up to 1.4, they simply moved 100 down to 98.6. Now, the Czar is not sure who made the bonehead move of shifting a common, familiar number like 100 down, rather than mess with the evidently sacred pickle brine freezing point value, but it was probably a German. And most Germans won't mess with pickles. That's serious stuff.*
Fascinating. Czar, can you explain what possible value quadratic equations have? I remember having to go through these things in high school, and I never understood them.
Oh boy, that's a delightful one to answer.
And the answer is no. Quadratic equations serve no practical value. The Czar has used basic arithmetic, Euclidian and non-Euclidian geometry, trigonometry, calculus, and even transfinite math to solve all sorts of real-world problems, but to certainly-not-your surprise, quadratic equations have never come up in real life.
So the Czar went looking. Read this list of so-called real-world applications, and wonder how you ever solved some of these problems without them. Yes, you previously have worked too hard trying to solve which of several bowls was most paraboloid in shape.
Even a list of 101 uses for quadratic equations comes up a bit short. Perhaps the author can come up with a quadratic equation to explain why his list is short by about 96. The Czar enjoys the comment "Quadratic equations are necessary for an understanding of acceleration." Hey yeah? A vehicle starts at one speed, and within a given time, winds up at a second speed. Strangely, there is a stunning lack of anything…dunno…quadratic about that explanation. And the ability to measure a ball in flight is apparently impossible to predict without quadratic equations. The next time the Czar bumps into Jason Bay, he will remember to ask which of the quadratic equations he prefers to glove a routine can of corn.
Over here, Dr. Ian bravely explains that quadratic equations are necessary for shooting a refrigerator 800 yards out with a pistol. The Czar feels obliged to mention that the math Dr. Ian proceeds to use might be of use to shoot a non-moving refrigerator, because several minutes of computation will result in most livelier targets trotting off to safety. The Czar might also add that no quadratic equation in the world will allow a pistol to hit anything besides dirt at 800 yards. On the other hand, if you had a long barrelled rifle (say a nice M24), your scope should be able to plug a refrigerator at 800 meters easily with breath control, a steady trigger pull, and very little math.
Sure, sure, people cough up all sorts of real world examples that are bizarre and arcane, but day-to-day living has found no shortage of practical and accurate shortcuts to using them. Yeah, the Czar has done rocket science. Now, please don't bother writing in with more: "But Czar, you can use them to calculate modal dispersion in optical fiber VCSELs!" The Czar bets your neighbor doesn't do that, either, for fun. Nor should you.
Tell the truth Czar. What is the worst liquor you ever had?
You know, the Czar can find good in just about any liquor there is. But he has to say that absinthe is absolutely lousy. Sure, he has tried the original stuff before it was banned, but you kids are too young to remember that. The new stuff, however, is quite safe. And tastes like lizard semen, one expects. It merits a mention in Revelation, for example, for its propensity to kill one third of all humans.
But speaking of wormwood, the Czar is intrigued by what many experts consider the worst liquor in the world. If you can, get yourself a shot of malört. Seems it is a type of wormwood schnapps. The Czar has yet to try it, but is intrigued by some of the descriptions out there. Samplers have reported it tastes like ear wax and turpentine. Another likened it to a liquid tire fire. Evidently, people drink it solely because it tastes so bad: they want to see how bad it is. And the handful of bars that carry it are happy to sell it at ridiculously low prices. Seems that malört is a common penalty shot: you lose a bet, you drink the malört.
An acquaintance of the Czar tried it recently, and said that the taste is easily as bad as we have heard and more. Apparently, it tastes as if a hobo attempted to make his own booze out of kerosene and pine tar, and promptly defecated the result into a shot glass. You know, the Czar is no fan of schnapps to begin with: as many of you know, schnapps comes from the German word Schnäpse, which means "things you never mean to ingest." Basically, schnapps is every candy flavor you ever hated turned into a liquor. Butterscotch? There's a schnapps for that. Root beer barrels? There's a schnapps for that, as well. Licorice? You guessed it. The Czar loathes circus peanuts, too, and he expects to find a schnapps capturing that delicacy, should he bother to look. So now you take wormwood, which the Czar made quite clear he despises in absinthe, and make a schnapps out of it. And behold. You have malört.
See what the Volgi misses by only drinking good ports? On the other hand, the Czar is sure that 'Puter is already googling to see where he can get a bottle of malört.
*The Czar is curious about the numerous and coincidental references to Germans in this post. Probably a code thing for you to figure out.

Божію Поспѣшествующею Милостію Мы, Дима Грозный Императоръ и Самодержецъ Всероссiйскiй, цѣсарь Московскiй. The Czar was born in the steppes of Russia in 1267, and was cheated out of total control of all Russia upon the death of Boris Mikhailovich, who replaced Alexander Yaroslav Nevsky in 1263. However, in 1283, our Czar was passed over due to a clerical error and the rule of all Russia went to his second cousin Daniil (Даниил Александрович), whom Czar still resents. As a half-hearted apology, the Czar was awarded control over Muscovy, inconveniently located 5,000 miles away just outside Chicago. He now spends his time seething about this and writing about other stuff that bothers him.