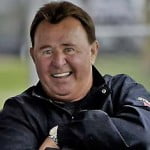 Well, if we're doing obits to the great Don Meredith, then we're sure as hell doing an obit for Ron Santo.
Ron was a guy that not only symbolized Chicago, but also the Cubs: no matter how bad things got, he stayed upbeat and achieved something else. Around the country, people think of Ron Santo as some ex-Cub who gripes because he never made it into the Hall of Fame.
About that. The problem people have with his lack of induction—and Santo never complained about it, although he openly said it would be his life's dream to make it in—was that, yeah, there were many other players better than him. But all of them made it in, and now there was a growing multitude of players much worse than him being ushered in.
But sports writers do the voting, and they always made sure that Ron missed each time by just a few votes. Because he was Ron, and it was funny. Now, of course, they'll feel guilty as hell, and he'll make it in 2012—of course, only because some journos want to alleviate their own guilt, not because Santo deserved it over a decade ago. And it will be insulting.
Here is what people around the country don't know about Ron. He suffered during his greatest years with diabetes. It was so bad that sometimes he couldn't even see. One day, his vision was so crossed that he saw two distinct pitchers when he was batting. Santo said he simply swung at a point between them, and creamed the ball.
He eventually lost both of his legs to the disease. Not a lot of people realize that: imagine being a baseball player who depends on his feet being told he was losing them. Santo never made that big a deal about it, even though he was injured many times from falling down.
Evidently, this was insufficient to make him depressed, so life threw another one his way. He suffered from cancer, and had organs removed. He had terrible heart problems. Not a lot of people realize that, either. His biggest concern was his curiously bad taste in hair pieces.
The Czar was lucky enough to share a plane flight with Mr. Santo from Sky Harbor to O'Hare in December of 2000. You never would suspect he was suffering so much, since he was so relaxed and gregarious—so much so that the Czar totally failed to realize we were sitting adjacent to Mark Grace, which we did not realize until we landed and the flight attendants spoke to him.
Although Mr. Santo was never the Czar's favorite player (and White Sox fans will remember that Ron played for them, too!), the poignant part is that Mr. Santo represented the game when everyone loved baseball. Few represented it better.

Божію Поспѣшествующею Милостію Мы, Дима Грозный Императоръ и Самодержецъ Всероссiйскiй, цѣсарь Московскiй. The Czar was born in the steppes of Russia in 1267, and was cheated out of total control of all Russia upon the death of Boris Mikhailovich, who replaced Alexander Yaroslav Nevsky in 1263. However, in 1283, our Czar was passed over due to a clerical error and the rule of all Russia went to his second cousin Daniil (Даниил Александрович), whom Czar still resents. As a half-hearted apology, the Czar was awarded control over Muscovy, inconveniently located 5,000 miles away just outside Chicago. He now spends his time seething about this and writing about other stuff that bothers him.