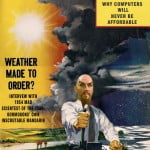 So look what the Volgi dug up in the basement. It's from a 1954 issue of Collier's magazine. Yep, before all the global cooling… wait, global warming… heck, now it's cooling again… began. Do your Gormogons believe in man-made climate change? You bet we do, baby, because we been doin' it since '54.
So that has perhaps made some of you wonder. Where the hell has the Mandarin been lately? Well, he has indeed been quite busy. Naturally, there are his usual duties of mucking up the world order, such as his visit here to correct everything the President is going to say next week on Mythbusters.
But as busy as he is, the Mandarin takes some time to catch up on some bee ball.
We do feel badly, though, for the dude who sat behind him with the air horn. Space explorers should be finding his dessicated, sun-burned corpse face down in Tycho Crater, barely used air horn can in his mummified hand.

Божію Поспѣшествующею Милостію Мы, Дима Грозный Императоръ и Самодержецъ Всероссiйскiй, цѣсарь Московскiй. The Czar was born in the steppes of Russia in 1267, and was cheated out of total control of all Russia upon the death of Boris Mikhailovich, who replaced Alexander Yaroslav Nevsky in 1263. However, in 1283, our Czar was passed over due to a clerical error and the rule of all Russia went to his second cousin Daniil (Даниил Александрович), whom Czar still resents. As a half-hearted apology, the Czar was awarded control over Muscovy, inconveniently located 5,000 miles away just outside Chicago. He now spends his time seething about this and writing about other stuff that bothers him.