Learning the Metric System in Like Three Steps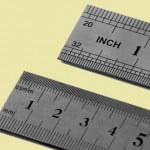 The Czar is a big fan of the metric system, and thinks everyone should use it. Yes, even Americans. Sigh. Yes, even you.
If you hate the metric system, the Czar knows why: because you are old enough to remember when the federal government attempted to mandate its use in the 1970s. Like most things run by the government it was a total disaster.
Any time you think of the metric system, you probably recall a highly saturated video about the government rollout. It probably featured a Hispanic man and a white woman, played by underpaid New York-based actors in odd clothing who specialize in awkward scenarios.
The woman walks up carrying an empty measuring cup, because in 1978, women belong in the kitchen. "Hello, Miguel," she says formally, and then frowns. "Hmm."
"What's wrong, Angie?" he asks, taking a break from simply standing there in a room, hands at his sides.
"I am attempting to follow a recipe," she says robotically, exactly as a writer puts down dialogue when he himself has very limited experience speaking to real people. "But the directions are in metric, and I cannot understand them."
"No problem, Angie, because men are very good at math. Let me help you."
"Okay, Miguel. The first step is to put in a cup and a half of flour. But I do not know how much that is."
Miguel chuckles at her womanly inabilities. "That's easy, Angela. One and a half cups is equal to 354.8824 milliliters of flour, because a cup is 236.5882 cubic centimeters."
"Wow, that was simple, Miguel. But I want to use a 9 x 12 baking pan for this cake."
"If I told you that nine inches was 22.86 centimeters…"
Angela drops her shoulders in embarrassment. "Then I need a 22.86 by 30.48 cm pan. Sorry, Miguel, I should have known. But I would like to bake this cake at 350°"
"Even easier, Angela! Subtract 32 from the Fahrenheit temperature, then multiply the result by five divided by nine. That makes 350 &deg…."
"176.6667° Celsius! Gosh, Miguel, I am so sorry to have pestered you. I promise I will drop this women's lib nonsense. Now, how about a piece of cake?" She winks at the camera, because cake is goverment slang for sex, and the scene fades out to the symbol for the Department of Commerce on a blue background.
Remember those? All those handy government videos that assured Americans that converting to the metric system would be as easy as passing advanced calculus? Yeah, well, not surprisingly, Americans told the government to go have a piece of cake with themselves. And as a result, the government elected to defer conversion to the metric system until the incredibly ironic year of 1984. And as that turned out, a little before that, the government decided to something smarter.
They would roll out the metric system, and the vast majority of Americans would never notice. As a result, car parts, computer components, medical supplies, liquor and soda, and a millions of other products are all quietly sold in metric sizes. You just don't notice because you are no longer doing math.
And that is indeed the gimmick. When you are using the good old imperial system, you use very little math. Inches, feet, ounces, pounds, and so on. The metric system is actually used the same way: you just use it. There should be no conversion.
There are three areas you need to try to use, and the rest all take care of themselves. Distance, volume, temperature, and that's it. Heck, for things like electrical voltages, computer storage and memory, and so on, you are already using the metric system.
Distance
King of all distance measurements is the meter. Okay, easy—think football. Everything is measured in yards; in the metric system, everything is measured in meters. If you can picture a distance in yards, you can do it in meters.
Is that exact? No, it isn't, but who cares! You don't ordinarily do a lot of precision work with miles, either. Hey, how far is it between LA and San Francisco? More than 300 miles, right? Right: you don't say 347 miles. Same with the metric system: double the miles, and you're close enough in kilometers. About 600 kilometers. That's enough to get you there.
Going smaller than a meter, your fingers are probably about 2 cm wide. The width of your palm about 10 cm if you're average size. Done. you can do a crazy amount of pretty accurate measurements knowing those two things.
Beyond that, what else do you need?
Volume
Forget everything else: all you need to know is the liter. A liter is basically a quart. Three cans of beer is a liter. Four liters is a gallon. Two liters of soda is…well, two liters. Four cups? A liter. A pint is half a liter.
You could pretty much substitute the word quart up there, and that all still rings true.
Temperature
The Czar admits this makes a bit more sense: water freezes at 0° and boils at 100°. That is neat and logical, but people spend very little time at the upper half of that range. What is the temperature outside now?
Yes, there are some pretty simple tricks to convert this (the Czar personally doubles Celsius and adds 32 to get Fahrenheit), but even that is too much work. Here are three temps to know:
Water freezes at 0. If there's ice on the ground, you are at 0 or below.
10 degrees is light jacket weather.
25 degrees is very comfortable. You would like it.
35 is hot.
So if the temperature is 18° Celsius, how would you dress? See? You got it already.
Here's why: when you look at a Fahrenheit temperature, you don't convert it. You look at it and think, relative to you, is that hot, warm, cool, or cold? That's all you have to do with Celsius. If someone asks, remember those temperatures above and give 'em your best guess: you will probably be just as accurate if you guessed in Fahrenheit.
Imperial
Unlike some of the metric jackasses, the Czar would very much like to keep our old Imperial system. Why? Well, for one thing, it tends to be really handy. And there isn't anything dysfunctional about it.
The Czar once got in argument with a carpenter about the metric system. "I'm not wasting my time learning that crap," he said. "I'm not going to measure stuff like 0.635 centimeters with some ruler…I'm going to use a quarter-inch cut."
He missed the point. Yes, when doing woodwork, go ahead and measure a quarter-inch. No one is going to make you throw out your old ruler. In fact, the Imperial system is much better at dealing with thirds and thirties: like a third-of-an-inch, or a 30° angle, because a lot of it divides by three or twelve really easy. And that makes up a lot of angles and elevations in real-world construction. Actually, the Imperial system is great for construction, because it handles fractions so well, whereas the metric system likes decimals. Fractions allow for great fits with loose tolerances, whereas the metric system gets bogged down in odd precision amounts.
And the Czar will admit it. He cannot, in his head, flip miles per gallon into kilometers per liter, no matter how hard he tries to find shortcuts. So he will use mpg for a very long time, thank you. But he is not afraid to take on the metric system by just using it for all sorts of other things. And each time you do, as well, you build your confidence with it.
Remember this: if you find yourself converting, you are doing it wrong. Guess. Ballpark. Use a rule of thumb. Look it up. Whatever: because that is, after all, how you use the Imperial system without a ruler. You don't measure something in gallons and immediately try to convert that to ounces, do ya? No, you just take a stab at what it most like is in gallons and leave it at that.
Now go eat some cake.

Божію Поспѣшествующею Милостію Мы, Дима Грозный Императоръ и Самодержецъ Всероссiйскiй, цѣсарь Московскiй. The Czar was born in the steppes of Russia in 1267, and was cheated out of total control of all Russia upon the death of Boris Mikhailovich, who replaced Alexander Yaroslav Nevsky in 1263. However, in 1283, our Czar was passed over due to a clerical error and the rule of all Russia went to his second cousin Daniil (Даниил Александрович), whom Czar still resents. As a half-hearted apology, the Czar was awarded control over Muscovy, inconveniently located 5,000 miles away just outside Chicago. He now spends his time seething about this and writing about other stuff that bothers him.