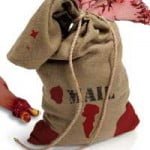 Well, you can always count on EC to read one of our essays, no matter how long or tangental it gets. And he always writes in substantively:
Your Czarness:

Your thoughts on gays in the military are, naturally, profound and correct. But, I fear that while having defined the problem, that of the hangers-on of the LGBT movement, you have moved to the solution without an intervening process.

I cannot imagine, and I imagine pretty well, how the civilian masters of the military, the congress and the Executive branch and the press, would ever allow your solution to be implemented. It flys in the face of all political correctness. Gays as a protected class are the club with which the enlightened elite beat the ordinary citizens. For their own good, of course.

Unobtrusive, loyal, conforming gay military members do not advance the narrative. The most flamboyant self-promoting scandalizing gay troopers do. The fact that they do stand out is not a defect: it is a feature.

If the gayness is not obvious, it doesn't count. Just as unobtrusive, discrete, and conservative gays don't count. The offense is the goal.

As you say: it should be simple. But it ain't. Make it so?
This is all really great feedback, and the Czar is not merely saying so because he is a couple of Heinekens into a good mood. The fact remains that those who like to shock us are running out of things to shock us with: a common complaint is that they who seek to shock the bourgeois (épater le bourgeois) have themselves become the bourgeois. As a result, and you have probably noticed, it is getting a lot harder to get attention these days.
Of course, gays may not indeed be the protected class you ruefully suspect: propositions for gay marriage fail, and attempts to demand that a Vince Vaughn movie be edited to remove a "that's so gay" throwaway joke get laughed at even by Hollywood. It may be argued that many gay groups are promoting themselves, unsuccessfully, as a protected class in hopes that wishing made it so. Wishing doesn't make it so: the media has only so much room for protected classes, and right now Muslims seem to have filled out all the positions.
Now, the Czar agrees with you whole-heartedly: there was a Simpsons episode in which Lisa tried to join the boys' football team to protest the absence of girls in the sport. When the boys pointed out that thousands of girls play on mixed teams, she protested the use of pig skins in the game. In turn, she learned the footballs were synthetic and that the NFL even donates huge sums to Amnesty International. Furious, she went home upset that there was nothing to which she could object.
The thought here is that there are two groups of people who will object to the Czar's plan: EC points out one group. Ironically, the "most flamboyant self-promoting scandalizing gay troopers" probably will not exist. If the military were to integrate gays as welcomed-but-integrated fighting men, the extreme stereotypes are probably not going to bother joining. There would be nothing to which they could object.
The second group is less obvious until you get to know them: these are the milliards of veterans who suffer from what the Czar calls veterans' inertia—any aspect of the military culture that changes or adapts is inherently bad. When the Army eliminated bayonet training, thousands of blog and forum posts lit up on how the military was "dumbing down" and "softening" training. The real reason was that millions of dollars and thousands of training hours were being wasted training soldiers to use a weapon that has extraordinarily little use. The Czar regrets he forgets the statistics, but the reality was that more soldiers use their entrenching tools to kill the enemy than use bayonets. And the use of entrenching tools was ridiculously rare. The training time was instead redirected to include more empty hand-to-hand training, which in the last 20 years has become painfully common as we engage in more MOUT-type operations. And that, too, changed to an emphasis on grappling and ground-fighting over old-school boxing, which pissed off a lot of veterans. Fact is, our soldiers are better-trained and better ready for combat than ever before, but the vets hate hate hate it because, ultimately, "weren't what I learned; if I had to do it, you oughta do it." We can quickly flip back to the early days of the Korean War to see how well that attitude served us.
So the Czar agrees that resistence will come from the a segment of the gay community who will, ironically, never actually serve or have any interest in serving their country. Heck, if history is a witness, we might see a lot of that same resistence will originate from people who aren't even gay but want to show how much they care anway: like the million-plus people who were among the hundreds who marched on Selma, Alabama.
But the Czar expects the old vets will protest—because they honestly believe that a change in current military process will surely mean the collapse of the American military juggernaut…whether it's gays, bayonets, or jujitsu. By the way, you might be old enough to recall the Certain Disaster that befell out troops when they switched from C-rations to MREs.

Божію Поспѣшествующею Милостію Мы, Дима Грозный Императоръ и Самодержецъ Всероссiйскiй, цѣсарь Московскiй. The Czar was born in the steppes of Russia in 1267, and was cheated out of total control of all Russia upon the death of Boris Mikhailovich, who replaced Alexander Yaroslav Nevsky in 1263. However, in 1283, our Czar was passed over due to a clerical error and the rule of all Russia went to his second cousin Daniil (Даниил Александрович), whom Czar still resents. As a half-hearted apology, the Czar was awarded control over Muscovy, inconveniently located 5,000 miles away just outside Chicago. He now spends his time seething about this and writing about other stuff that bothers him.