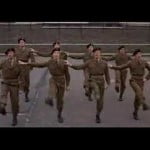 The Czar has not picked up on the subject of gays in the military, so we should probably say something about it.
Here it is: there are gays in the military. They are already there.
But what a weird thing to argue about. When you include the politics, there are two positions: the Obama position, which is basically to do something to win points with the utterly disappointed gay community, and the McCain position, which is to insist that gays will be the most destructive thing imaginable to the military. And perhaps that is true, but most likely it is not.
When you take out the politics, there is a strange clarity to the situation: there are thousands of gays in the military right now, proudly serving their country and defending the Constitution to the best of their abilities, from threats foreign and domestic. And our current military is still the finest military in world history, so we must be doing something right.
The Czar takes the position that sexual orientation is an orientation, not a preference. He remembers pieces of his own childhood in the steppes, and how there were some six, eight, and ten-year-olds who exhibited very strong homosexual orientations, whatever that means. And when these kids later came out of the closet, was anybody really freaking surprised?
Point is, no. Sexual orientation is not a behavior, as much as many conservatives hope it is, but a hard-wiring of the brain. In essence, you are born with it—like your eye color. Like it or hate, you can try to suppress it, attempt to disguise or alter it (usually with catastrophic results), or embrace it, but you got what you got. What has this got to do with anything?
Here is what the Czar expects. Take nine heterosexual Marines and one homosexual Marine and put them into the same room. The Czar should not remotely be able to figure out who the gay Marine is, if he's even really there. We should see ten American Marines, who stand to attention, snap to a salute, have crisp, neat uniforms and perfectly shined black boots. When asked if they are ready to fight, they should growl out 'Sir, yes, sir!" and then hit ten out of ten on the rifle range.
We should similarly expect to see ten American soldiers, berets perfectly canted, shoulders level and square. We expect to see them scramble for their tanks, and hit one target while aiming at the next. With airmen, we expect to see a plane prepped, fueled, and engines on as the pilot races for the ladder. With sailors, we expect to see lines cast, props turning, and missiles on line. Which ones were the gay ones? Who the hell could tell: we only saw American military professionals doing the best jobs in the world.
In that respect, the Czar agrees with some recent comments that sexuality in the military is not like race. We failed to integrate race into the military correctly, and finally seemed to get things right by the Korean War. Today, many a racist enters the military but comes out with multiracial brothers. Why? There isn't time for that bullshit in today's military.
Also, accordingly, this is not like religion. In the military, there are accommodations for religion. Your religion will affect your chaplain, whether you are allowed services on Friday, Saturday, or Sunday, and even whether you will be issued a weapon. With sexual orientation, these things are not even issues.
Now take note of that, because here is where Senator McCain and so many military folks can be right in fearing the destruction of the military: the problem is not with gays, but with the liberal hangers-on who associate themselves accordingly. In other words, not the gay community, but the so-called LGBT crowd.
Because if we were only talking homosexuals, this would be easy. Military folks uncomfortable with showering with gays? Puh-leez. Our military is filled with people who calmly clear a jam from an M4 while 7.62mm rounds chunk craters in bricks behind you, who can pilot millions of dollars worth of equipment at high speed while flying inches over terrain, who stand inches away from jet engines catapulting off a flight deck, and parachute in behind enemy lines to rescue pilots facing hordes of enemy troops closing in. Think these folks have to worry about already prohibited fraternization? Because if it were a problem, it would be happening today.
Destroy military unit cohesion? Mmm. Hard to see that. The Czar does acknowledge a hard-learned lesson that women serving alongside men in active combat roles tend to make the men over-protective toward the women—causing the men to do stupid things under fire, and at the same time preventing the woman from doing her job. But it is pure fantasy to think that a gay male would stop in the middle of combat to hit on another guy. Serve in a platoon or squad, and you see how uncohesive raw recuits are: there are initial suspicions and fears over race, poverty-level, background, language, accent, religions, tattoos, and more. Fights break out in barracks. And yet, within weeks, all these melt away. Because thinking otherwise is confusing behavior with orientation. One has nothing to do with the other, as millions of successful drill sarges, CPOs, and gunnies will acknowledge.
So where is the problem? When the LGBT goofballs suddenly want to have separate but equal facilities for transgendered or pre-op folks. When cross-dressers, who are not inherently homosexual, insist on dressing up in women's uniforms. When "gay pride" militants insist on breaking regulations about dress and conduct to promote liberal themes. That is where the military must say Nope. You will abide by our high standards of regulation. And if you cannot, as it often happens to new recruits, you cannot serve in the military. Pretty simple.
Not simple? The Czar will explain: allow gays to serve openly in the military, but do not tolerate or even consider one single change in rules or regulations. No special accommodations. No special treatments. No looking the other way.
And yeah—that must be universally the case. If a heterosexual soldier refuses to serve next to a gay, treat him as if he refuses to serve next to anyone else. If a sailor refuses to bunk next to a gay, handle it correctly. Screw political correctness—handle this like any other case of insubordination.
This should require no work on behalf of the military. It should be this simple.

Божію Поспѣшествующею Милостію Мы, Дима Грозный Императоръ и Самодержецъ Всероссiйскiй, цѣсарь Московскiй. The Czar was born in the steppes of Russia in 1267, and was cheated out of total control of all Russia upon the death of Boris Mikhailovich, who replaced Alexander Yaroslav Nevsky in 1263. However, in 1283, our Czar was passed over due to a clerical error and the rule of all Russia went to his second cousin Daniil (Даниил Александрович), whom Czar still resents. As a half-hearted apology, the Czar was awarded control over Muscovy, inconveniently located 5,000 miles away just outside Chicago. He now spends his time seething about this and writing about other stuff that bothers him.