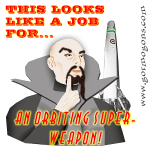 ERC responds to DT's letter about California.
Your link to Dr. Hanson's article was a real downer. I'm a second generation Californian in my mid sixties. "I've seen California destroyed by Progress." I'm one of those 20-to-100-acre orchardists: used to have more but had to sell because we weren't "makin' it." (We had water, but we had to pump it up about 800 feet.) We have a grove of pistachios coming into production next year over in the Valley, at which time we will try to sell out.

I think that you can learn just about everything you need to know by reading Dr. Hanson, Dr. Sowell, the Belmont Club blog and…The Gormogons! And, generally, you're more upbeat than those other guys. / erc
Thanks! We find that no matter how dire the crisis, 'Puter's overly flatulent ogling of some grade school teacher always makes for a merry accompaniment. Of course, one of the reasons people like coming here is for the intelligence of our readers!
Like here:
Dear Czar,

The repeal of DADT happened during the lame duck session today.

Of all the things on Mr. Reid's agenda, this is the one Dr. J cares least about.

Dr. J. has had the privilege of working in a couple of VA's during his training and even in association with his employ at his current Ivory Tower. To be fair, it is a hospital. The recipients of care are appreciative of getting good care regardless of who it is from. There are a number of veterans that Dr. J. has either taken care of, or worked alongside, who are either are gay or might be.

The reality is that no one seems to care.

I think that we're at the point where the current generation of enlistees probably don't care. Given that every other episode of a dating or reality show on MTV is a gay/lesbian offering, the current youth generation would probably vote for a horse as senator.

I doubt that it would genuinely affect morale much.

When the ship pulls in, to dock, some of the sailors will go hard to port, while the rest will go hard to starboard. I don't think much will happen that is problematic on board that isn't already going on. On the straight side of things, plenty of women have to be shipped back from deployment early due to unplanned pregnancies.

I am curious to the Gormo's thoughts (or lack therof) on this.

I am much more concerned about START.

Best,

Dr. J.
Uh, sure. Easy. The Czar agrees that if the DADT repeal is the worst thing to happen to our military, we do live in fabulous times. Are we really at the point where we can worry about non-combat off-duty activities that involve consenting adults outside of the service? If so, great.
Personally, the Czar would like to see the military a little more preoccupied with the War on Terror.
START aims to reduce nuclear stockpiles. Republicans believe it goes too far, and includes the reduction of defensive missiles. Democrats say that Republicans are just being jerks because this is a major foreign policy initiative for President Obama.
The votes seem to be there for this to pass. And people are right to be concerned. Ultimately, the quantity of nuclear weapons we have is unimportant because the US is never going to use them against an enemy power (even if they use them against us) because each can kill hundreds of thousands of innocent people. You think we would ever want to glass Iran? Or China? The rules of warfare have changed since 1945, and we now realize that nuclear weapons are incredibly counter-productive.
Yet, they remain the ultimate symbols of military power. Seriously, whom would you rather face in a war? A million-plus army of guys with rifles, or a million-plus army of guys with nuclear weapons? Speak as softly as you like, but a hydrogen warhead is a pretty freaking big stick.
No, the real problems with START, as the Czar sees it, are these: (1) The President is, let us be honest, a foreign policy failure. Everything he touches turns to crap—no matter how perfectly a treaty might favor the United States, he would find a way to screw it up badly. (2) Who the hell is asking for this? Russia? No. China? No. Basically, Barack Obama woke up one morning and decided he hated nuclear weapons. So we went unilaterally forward to proposed reducing our weapons. You think Russia or China will say no at this point?
And the Czar is charitable beyond belief to even mention China. This is all some weird 1970s throwback—Barack Obama will personally end the Cold War by making the Soviets reduce their stockpiles! Sheesh—and while he's at it, how about going after Versailles II, and preventing the Germans from rebuilding their navy?
The psychology on this is weird. Maybe this is how it works: Obama knows he is a total dud as a President; certainly he isn't the new Ronald Reagan he was supposed to be in 2008. But maybe he can be like Reagan, and get the Soviets Russians to surrender give up some of their weapons follow our lead if we give up some weapons? Except of course, Reagan did more than that—he ended the Cold War. And the Russians, under Putin especially, are awfully good at saying they will reduce weapons without, you know, ever getting around to it.
Democrats: is there anything they can't do?
Frankly, if the President wanted to impress the hell out of us, drop START and instead commence boxing in the Chinese. Send a strong message that China is not in a position to solidify their recent diplomatic gains. Then, make it very clear to Russia that they are better friends then competitors: that Russia is being very closely watched, and our skin is really thin right now. Then start supporting democracy in Iran, so that the people of Iran know that we got their six, but the next move is up to them.
You know, maybe show some foreign policy ideas that are from 2010, not from 1973.

Божію Поспѣшествующею Милостію Мы, Дима Грозный Императоръ и Самодержецъ Всероссiйскiй, цѣсарь Московскiй. The Czar was born in the steppes of Russia in 1267, and was cheated out of total control of all Russia upon the death of Boris Mikhailovich, who replaced Alexander Yaroslav Nevsky in 1263. However, in 1283, our Czar was passed over due to a clerical error and the rule of all Russia went to his second cousin Daniil (Даниил Александрович), whom Czar still resents. As a half-hearted apology, the Czar was awarded control over Muscovy, inconveniently located 5,000 miles away just outside Chicago. He now spends his time seething about this and writing about other stuff that bothers him.