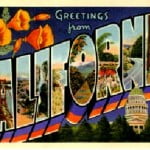 Examples of how California is royally screwed are many. Look at Victor David Hanson's survey of the central valley, ponder the idiocy of a state-paid food nazi suing McDonalds for her own poor parenting, or just ponder the unionized financial suicide they're committing thanks to their public sector workers – no matter what, CA is toast. What can we do about it?

I figure one option is to keep up the insurance payments and pray that the big one comes soon. Once Arizona is beachfront property I'm thinking the insurance settlement for CA would help the national debt a good amount. Still, it seems a bit morbid to hope the state falls into the ocean, plus it'd decrease the nation's supply of In & Out burgers.

So how about we go ahead and sell CA to China? It'd be a win-win for everyone: China would get easier shipping to the rest of the US, and we'd be able to use the revenue to pay off our debt – right back to China. We'd even get rid of Nancy Pelosi and Barbara Boxer in the deal – what's not to love?

Sure, the Californians might be upset, because a communist government is far too right-wing for their tastes. But really, the Californians get upset about everything anyhow, so who cares?

These days 3x cash flow is a good starting point for sales negotiations. The CA gross state product is around $1.85 trillion, so triple that to around $6T. Toss in FF&E, real estate, and other assets, you have to figure it'd go pretty far to settling us up with the Middle Kingdom.

What do you think, oh wise and mighty czar?

—DT
Naturally, lots.
On the one hand, Japan came pretty close to owning California in the 1980s. But the Japanese of the '80s were great at buy-high sell-low financials. A buddy of the Czar's used to work in a peculiar arm of the hotel business. They specialized in the following triple-crown approach: buying a run-down, craptacular hotel and fixing it up just enough to get Japanese investors to buy it for more than the group paid for it. They would stay on to help the Japanese investors spend a ton of money to repair the whole thing (as a consulting engagement) and make it state of the art. Then they would wait six months until the Japanese ran it straight into the toilet, and buy it back from them pennies on the dollar, repeating the process with another Japanese investor. Each of the three steps made them enormous profit until the Japanese crashed in the 1990s.
Basically, what would happen is that China would take California, ruin it completely to our delight, but then sell it at a loss back piece-by-piece to us, and we would be stuck with it again. What would really need to happen is for the Los Angeles and San Francisco elite to be inconvenienced, personally, to the point where they have to get involved. Then, at rock bottom, California will build themselves up again like they did in the 1940s and 1950s. And Jerry Brown, as governor, is just the guy to drive them to the bottom.
One additional thing. Hope as ye might, but California is not dropping into the ocean ever (DT hopes not, for the record). It isn't on a shelf. The fault line will cause the very Western edge of the state to split off, forming a shape kind of like Long Island but bigger (and mirror-shaped). If anything, real estate prices will sky rocket, and the isolated marsupials on that island will get even weirder.
You don't want it. Trust us. You thought the celebrity hand-wringing over New Orleans was bad? What will Robert Redford be like when his driveway gets cracked? Travesty!

Божію Поспѣшествующею Милостію Мы, Дима Грозный Императоръ и Самодержецъ Всероссiйскiй, цѣсарь Московскiй. The Czar was born in the steppes of Russia in 1267, and was cheated out of total control of all Russia upon the death of Boris Mikhailovich, who replaced Alexander Yaroslav Nevsky in 1263. However, in 1283, our Czar was passed over due to a clerical error and the rule of all Russia went to his second cousin Daniil (Даниил Александрович), whom Czar still resents. As a half-hearted apology, the Czar was awarded control over Muscovy, inconveniently located 5,000 miles away just outside Chicago. He now spends his time seething about this and writing about other stuff that bothers him.