Sen. Reid Seems Worried What'll Happen If GOP Wins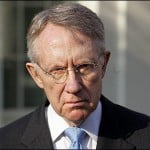 That the Czar believes Senator Harry Reid to be as senile as he is vicious shall come as no surprise to our highly educated readers. NRO Online has the following quote from the Senate Narrow Majority Leader that shows how horrifyingly foolish he remains. Topic: Senate Barely a Minority Leader Mitch McConnell is planning to begin dismantling ObamaCare. Senator Reid:
It speaks volumes that the first thing on Republicans' 'to do' list is to give power back to big health insurance companies. What Senator McConnell is really saying is, Republicans want to let insurance companies go back to denying coverage to people with pre-existing conditions, let them go back to charging women twice as much for the same coverage as men, and let them push millions of seniors back into the Medicare donut hole.

Republicans have always been the party of putting big business over the middle class, and they are wasting no time in trying to jam through favors for big corporations at the expense of hard-working families who are struggling to make ends meet. If Republicans think the American people want to go back to giving insurance companies free rein to impose their abusive practices on middle-class families and seniors, then they are truly out of touch with the middle class.
Someone needs to tell Harry Reid, possibly with a simple diagram with friendly illustrations, that the election is over. The GOP won, largely because people want real Healthcare Reform in lieu of Reid's fantastic chimaera. A 50-year-younger Senator Reid might say "Well, that figures," and let it go at that. You blew it. The people do not like it, and that's that. Not to the current Senator Reid, though, who evidently still thinks that a few well-placed insults is sure to put him a few points ahead of Sharron Angle. And the Left ill-advisedly ripped on George Bush's intelligence?
The irony of who is out of touch with the middle class is truly outstanding. Nevadans have only themselves to blame.

Божію Поспѣшествующею Милостію Мы, Дима Грозный Императоръ и Самодержецъ Всероссiйскiй, цѣсарь Московскiй. The Czar was born in the steppes of Russia in 1267, and was cheated out of total control of all Russia upon the death of Boris Mikhailovich, who replaced Alexander Yaroslav Nevsky in 1263. However, in 1283, our Czar was passed over due to a clerical error and the rule of all Russia went to his second cousin Daniil (Даниил Александрович), whom Czar still resents. As a half-hearted apology, the Czar was awarded control over Muscovy, inconveniently located 5,000 miles away just outside Chicago. He now spends his time seething about this and writing about other stuff that bothers him.