Quiet, You. The USAF Has Something Cool.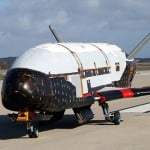 The Czar is not certain what the author's actual point is, but it can't be a good one.
Wired's David Axe is reporting on the remarkably interesting X-37B spaceplane, which the United States Air Force is currently testing. One of its more interesting abilities, whether or not it is an actual test, is to play cat and mouse with amateur astronomers. There is a fun rivalry going: amateur astronomers announce they have found the machine in orbit, upon which it promptly disappears. And the hunt is back on.
What else can the X-37B do? Well, a lot—but nobody knows for sure. And this seems to irritate Mr. Axe, who reports that the Union of Concerned Scientists objects to the USAF's secrecy. Eric Sterner, from the Marshall Institute, mentions that this plane could theoretically do anything, include deploy weapons. Axe goes on to list other concerns: this plane could surveil or hack into other countries' satellites, and do all sorts of mayhem.
Lacking in this article is any sense of balance: what is the USAF's position on the plane? Well, there is some non sequitur in there about its ability to deploy various payloads. But that is about it.
So permit the Czar to answer: it is none of your fricking business. Tango sierra, as the USAF folks might say: tough excrement. Best line in the article, from Brain Weeden of the Secure World Foundation: "When another state, say Russia or China, uses their dual-use technology, the U.S. has the ability to determine that that was not a hostile act….But when the U.S. does it, in most cases no one else has information to independently verify what's going on. That creates a problem."
Uh, not for us, it doesn't. Hey, two points to consider:
If Russia or China wants to meet or beat this radical new technology, they can get off their respective asses and put up their own spaceplane. Thank goodness the United States military can still be so far ahead on the innovation curve, given how much we have postponed new technologies and allowed other countries to catch up. The best weapon is one you never have to use: the spaceplane qualifies—unless of course we let these crybabies get their way, and the USAF has to divulge what this bird does and how it does it. Good lord, can't the US be first in anything, anymore?
We need this thing. Already there are pretty solid suspicions that China has a fleet of satellites in orbit that can jam American GPS birds. If the US edges toward conflict against any Chinese interest (directly or indirectly), the Chinese can reposition their birds next to our GPS birds, and then scream out loud gibberish at the same frequencies as our birds—rending our GPS technology (military, industrial, and civilian) totally blind. Imagine the havoc. Unless of course, the USAF has some sort of…dunno, some sort of spaceplane, perhaps, that can warn us in advance and begin taking apart the hostile denial-of-service satellites?
What this really amounts to is this: Mr. Axe is pissed, because he clearly loves space technology, and the USAF has something radically advanced up there he cannot understand or get answers on.
What a nice position for the USAF to find itself in.

Божію Поспѣшествующею Милостію Мы, Дима Грозный Императоръ и Самодержецъ Всероссiйскiй, цѣсарь Московскiй. The Czar was born in the steppes of Russia in 1267, and was cheated out of total control of all Russia upon the death of Boris Mikhailovich, who replaced Alexander Yaroslav Nevsky in 1263. However, in 1283, our Czar was passed over due to a clerical error and the rule of all Russia went to his second cousin Daniil (Даниил Александрович), whom Czar still resents. As a half-hearted apology, the Czar was awarded control over Muscovy, inconveniently located 5,000 miles away just outside Chicago. He now spends his time seething about this and writing about other stuff that bothers him.