Quantitative Easing: Inflation's New Euphemism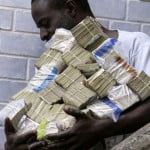 Usually when you hear a Latinate + Anglo-French compound noun, you can bet you are hearing a governmental euphemism: like collateral damage, affirmative action, or state capitalism. You can bet the guideline also applies to quantitative easing. All right, what is that, anyway?
Indeed, quantitative easing has been around for a while, but not so much in this country at this proposed scale. Basically, it is a way to get more money in people's hands. Sounds great, but in the Czar's opinion, it is an admission that the Obama administration has given up on the economy, and has no real idea how to get things moving again.
One of the easiest ways to rescue a stalled economy is to get people buying things again. If people buy, people sell. Buying and selling exchanges cash and goods, and pretty soon production ramps up, services are performed, and unemployment goes down.
Let us imagine that has stalled. And indeed it has. One trick is to lower interest rates. This encourages people to buy homes (and other large items like boats and motor homes, but homes have the biggest impact by far). When people buy homes, they also buy furniture, hire painters, plumbers, and carpenters, purchase washing machines, dryers, and refrigerators. This means people need to be hired to build, install, and manage these goods and services. And people need to deliver the materials, so trucks and transportation are required. All in all, a lot of people find work when one person buys a single house.
But let us imagine that the number of people buying homes has declined. And indeed, in most areas, it has. What you do is lower interest rates again. And again. And again. This keeps pumping life into a sagging economy.
Unfortunately, you can only do this so much: interest rates are so low now that anyone who could profit from it already has, and the people lending the money are basically giving it away almost for free. Eventually, it becomes pointless to lower them any more.
So what do you do then? If you're a Keynesian economist, you do two things: first, you dump a large amount of borrowed money (stimulus) into all sorts of avenues in hopes that this triggers an increase in buying and selling of goods and services; when that succeeds, you next trim government spending so that taxes pay off the obvious IOUs the government has produced. Europe has done this, with very small success; the Obama administration—who like most college professors gets through the first half of the textbook by the end of the semester but not the second half—dumped money in all sorts of unresearched directions but has failed to curtail any spending. Not surprisingly, this move did not work, either.
So you cannot lower interest rates, and you cannot cough up the cash for a stimulus. Pretty much all you have left is quantitative easing. Here is what you do if you are the government: you go to the banks that sell government bonds. You ask them how many unsold bonds they have, and buy them back at face value or a little more. Great, says the banks! They sell you your old bonds back, and you give them billions upon billions of dollars in cash.
Where did you get the money? Well, you are the government: you just make it up. The beauty of the plan is that the banks don't care—it's real money. So they start loaning it out to people and kick-start the whole process again. And this money makes it out to the public, who then start buying and selling and hiring and working again.
The problem with this approach is two-fold. First, the government has basically invented magical money. With billions of dollars floating around that didn't exist before, the value of the dollar falls. Why? Basic economics: let's next imagine you have something that everybody wants but nobody else has. You have a monopoly, and can charge whatever you want for people to use it. Well, then, someone else gets the same thing you have. Now, there are two of you, so the amount you can charge drops by half. Then a third guy gets this thing that everyone wants, so your prices drop to a third of what they once were. And so on, and so on. The more of these things that appear, the less your value becomes. Right now there are billions of dollars out there, all worth something. Add another chunk of billions out there, and the value of each dollar drops a little bit.
So to compensate for all these extra dollars, prices go up. Last year, you had $30 in your pocket: enough to buy a case of beer. This year, you have $38 in your pocket, thanks to quantitative easing. What happens? The price of beer goes up to $38. It has to: the cost to produce the beer has gone up, so the brewery passes that cost increase onto you. And it isn't the fault of the brewery suppliers: their costs have gone up by the same amount, too. This is called inflation, in case you haven't already caught on.
Quantitative easing invariably increases inflation. And the problem with inflation is that costs go up for the government, so they have to increase the money supply to meet their own expenses. And this increases inflation further, which increases inflation…and up into a spiral where money becomes worthless.
But the theory of quantitative easing is designed to check inflation up to a certain point: by buying a fixed quantity of bonds (quantitative), you limit how much money actually floods the market. Ideally, you want just enough to lower economic fear (easing).
Of course, this theory is predicated on the idea that the banks will flood the markets with that cash. If the banks are hard hit themselves, which most are, they will begin to use that money to pay off their own debts, or worse, stockpile it as a hedge against inflation. In that case, the money never makes it into the streets but we get inflation anyway: so beer goes up to $38 a case, but you still only have $30 in your pocket.
Does quantitative easing work? It can: a small scale experiment was tried in 2008 without catastrophic results. But other governments have tried it, such as Japan, with very unhappy returns. So quantitative easing is probably a last-ditch resort: so if it fails, you're screwed. And there isn't much evidence to say for sure it can work.
Is there an alternative? Of course there is, but it makes the Democrats look utterly stupid. You drastically cut spending, as the GOP wants, and hold taxes where they are. That puts a lot of money into the streets without increasing overall supply. As a result, you now have $38 in your pocket, but beer is still at $30 a case. Sound familiar?
A lot of people are wondering if President Obama will soften his ideology now that the GOP has taken the House and almost half the Senate. As long as the Czar keeps hearing "quantitative easing" discussed seriously, the answer is no: the President will not admit his economic plans were a total failure.

Божію Поспѣшествующею Милостію Мы, Дима Грозный Императоръ и Самодержецъ Всероссiйскiй, цѣсарь Московскiй. The Czar was born in the steppes of Russia in 1267, and was cheated out of total control of all Russia upon the death of Boris Mikhailovich, who replaced Alexander Yaroslav Nevsky in 1263. However, in 1283, our Czar was passed over due to a clerical error and the rule of all Russia went to his second cousin Daniil (Даниил Александрович), whom Czar still resents. As a half-hearted apology, the Czar was awarded control over Muscovy, inconveniently located 5,000 miles away just outside Chicago. He now spends his time seething about this and writing about other stuff that bothers him.