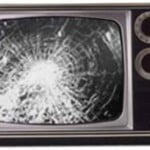 Your Mandarin is a strong opponent of censorship and has always been of the opinion that if you don't like what is on television you should either change the channel or turn it off. Apparently, Mr. Steven Cowan decided that instead of choosing one of these options, it would be easier to shoot the television with his shotgun.
And what you ask would cause Mr. Cowan to blast away at the television? Well it stems from his disappointment and outrage that Bristol Palin had not been voted off of ABC's program Dancing With The Stars. It is Mr. Cowan's contention that the only reason Bristol was still on the show was because of her mother and not her dancing talent.
Now whether or not Bristol has remained on the show because of the fame/notoriety that her mother enjoys, or she has remained on the show because the audience members that vote for her feel some connection with her, there is no excuse for someone to take a shotgun to the television. Your Mandarin wonders what Bristol has done to this man to cause him to become so unhinged aside from being the daughter of Sarah Palin.
According to the news report, the authorities – whoever they may be – say that Mr. Cowan suffers from bipolar disorder. Your Mandarin really does believe that liberalism is mental disorder. Now if conservatives could use this as an example that liberals/progressives are mentally unstable and a menace to themselves and others, maybe we could have them all committed to a psychiatric facility for their own safety. I'm sure there is a provision somewhere in ObamaCare that would cover this.

The Mandarin, whose real name is 吏恆, joined the order in 1309, and introduced the Gormogons into England during the 18th Century.
The Mandarin enjoys spending time with his pet manticore, Βάρἰκος, or Barry (who can be found in the Bestiary). When not in the Castle…well, frankly, nobody is quite sure where he goes.
The Mandarin popularized the fine art of "gut booting," by which he delivers a powerful kick to the stomach of anyone that annoys him. Although nearly universal today, the act of gut booting or threatening someone or something with a gut boot is solely due to him.