Obama v. Clinton v. Wilson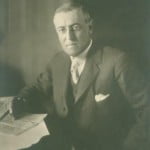 Anytime one compares two presidents with each other, the result can only go so far before it becomes unfair to both presidents. We have done it here, with provisions, when we compared Obama to Jackson, Obama to Carter, and even debunked the once-popular Democratic hope (or fantasy) of Obama to Reagan. Indeed, comparisons reveal the differences to be substantial, and the similarities to be largely cosmetic.
Currently, with last week's Republican smackdown, the blog world is fascinated with the comparison of Obama to President Bill Clinton. This is a potent, but ultimately superficial, comparison because while Obama finds himself very much in the same position—a President stuck with an opposition legislature, who could strike bipartisan deals to regain significant popularity at the expense of ideology—the reality is that Obama is a very different man from Bill Clinton. The President could throw up his hands, admit he screwed it all up, and work to push compromise deals, but he almost certainly will not for two reasons.
To date, he has shown a consistent streak of irresponsibility, blaming anything that moves as the source of his personal evils, and a damn-the-torpedos attitude to legislation that reveals a deep motivation to act regardless of popular opinion. He could have, for example, begun to reposition himself months ago when polls made it clear that the Democrats would lose, and editorial after editorial insisted this election would be a national referendum on his leadership. He did not, although he clearly had little to lose by trying it. A more cynical, but one thinks equally accurate, way to express this point is to solicit the name of any college law professor who changed his syllabus, lectures, or playbooks simply because a first-year law student showed him up on a legal point.
Second, the Republicans cannot let him compromise. Obama is a principles man, not a details man. He views himself as a trans-Wilsonian visionary: he sets the course, and lets the legislature execute the play. The President stated his six goals for healthcare reform, but insisted on letting his own party re-write the bill; he continued to support his vision even though casual readings of the bill showed that every single goal of his would be violated.
Republicans have already stated that they cannot compromise on principles, only details. We must cut spending. We must unravel the debt and reduce the deficit. The President has shown no willingness to do any of these things because they are detail-rich processes. He will be unable to accept any principle-based changes, and the Republicans are not able to limit their suggestions to details.
Clinton, on the other hand, cared little for principles. Boy, did he ever. If public opinion polls suggested that pantsing the veep on the front lawn of the White House would gain Clinton a partial tick in popularity, the President would have been dragging Al Gore out there himself. Clinton could easily compromise on details (you want a capital gains tax cut? Fine!), but he could just as easily cave on big details, as well (you want me to reduce welfare and abandon health care reform? Done!).
So should we compare Obama to Wilson? Again, there are many similarities, particularly in their backgrounds (lawyers-turned-university professors elected with little hands-on experience in government or law) and visions (change the world and fix the Constitution later) and politicking (embrace organized labor, and punish thy enemies). But Wilson did not face serious opposition in his first term the way Obama does. His primary opponent, Charles Evans Hughes, was so similar in outlook and strategy that the election wound up being close only because you were basically voting for a Progressive either way. Tragically, Wilson became physically incapacitated during his second term, so it is difficult to say whether he would have changed his principles as support for him fell during demobilization after the First World War.
No, indeed, President Obama is his own man, and the next few months should prove quite fascinating for future historians.

Божію Поспѣшествующею Милостію Мы, Дима Грозный Императоръ и Самодержецъ Всероссiйскiй, цѣсарь Московскiй. The Czar was born in the steppes of Russia in 1267, and was cheated out of total control of all Russia upon the death of Boris Mikhailovich, who replaced Alexander Yaroslav Nevsky in 1263. However, in 1283, our Czar was passed over due to a clerical error and the rule of all Russia went to his second cousin Daniil (Даниил Александрович), whom Czar still resents. As a half-hearted apology, the Czar was awarded control over Muscovy, inconveniently located 5,000 miles away just outside Chicago. He now spends his time seething about this and writing about other stuff that bothers him.