Music Education: Simple Math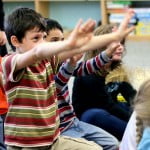 The Czar has often said that scientists tend to be political idiots. Not all, mind you, because that would be an exaggeration. Probably only 99.995% of them, which is easily in the millions.
There is of course an unabashed streak of liberalism in the scientific community, and truthfully few scientists will be voting for the GOP this year. Ignore the fact that Republican presidents and Congresses tend to push more funds to scientific programs and offer tax breaks for companies that employ science…we have been through that too many times to count, now. Scientists believe liberal politicians give more money to scientists, so it feels factual enough to be true.
The real problem is that scientists tend to see the world in very theoretical ways; because we see something should be true, it astonishes them that it is not. The November, 2010, issue of Scientific American is a case in point. An editorial therein posits that music education has a tremendous effect on a child's developing brain, resulting in improved scores in reading, math, and everything you can think of.
So why in this age of failing schools are we cutting music programs? Maybe, based on the tone, a few more question marks: why are cutting music programs?????
And so, the Czar will explain it. Yes, their premise is true: music education is vastly important for children. And if your kids aren't getting it in school, they should be getting it at home. And if you are not musically inclined, the Czar will allow you to let your pre-teens hang out with rock musicians for a couple months. Trust us, the results will be worth it.
The reason music education is getting cut is not due to a lack of funding. Yes, music education is being eliminated for funding reasons, but good music education requires very little resources. Kids do not need to be given progressional grade musical instruments, $2,000 keyboards each, and computer sequencer software. What they need is a blackboard, some chairs, and a freaking CD player to introduce musical styles, genres, elements, and names. Some of the greatest names in the music business received music training on less money than even impoverished programs offer.
The reaon music education is being cut is due to time. Music education wastes time being devoted to test taking. Check into most public schools and you will see it: federal and state education guidelines are forcing schools to focus on elevating performance on standardized tests or face drastic funding cuts or other penalties.
Well, is that so bad? Aren't those tests reading, writing, and arithmetic? Is it so bad to spend a lot of time on the basics? Perhaps you forget your own standardized testing experiences: arcane vocabulary, analogies, Venn diagrams, and conceptual word problems. And rather than focus on how to determine the right answer, teaching time is spent on test-taking strategies.
This sounds like, but isn't, problem solving. Instead, students are learning how to pass tests without understanding the questions. And the question themselves probably appear totally irrelevant to a third or fourth grader: what is the main setting of the passage you read? What events happen in the last passage? What symbols are offered to describe the narrator's viewpoint? Which of the following mathematical expressions is valid?
The kids neither understand the purpose of the tests, care about the results (they are not effectively graded on their answers), or relate to the arbitrary theories behind the questions. But what they do know is that B is the most common question, and in a range of numbers, you can usually throw out the first and last.
So there is where classtime goes.
Want music education back into public schools? Reduce the amount of testing. Want to reduce the amount of testing? Keep the performance of the schools up. How? Begin to eliminate union domination of teacher evaluations. The kids don't arrive stupid, but they can leave that way.
Therefore, Scientific American can answer its own question: begin to force the unions out of schools. Then, there can be time for music again.

Божію Поспѣшествующею Милостію Мы, Дима Грозный Императоръ и Самодержецъ Всероссiйскiй, цѣсарь Московскiй. The Czar was born in the steppes of Russia in 1267, and was cheated out of total control of all Russia upon the death of Boris Mikhailovich, who replaced Alexander Yaroslav Nevsky in 1263. However, in 1283, our Czar was passed over due to a clerical error and the rule of all Russia went to his second cousin Daniil (Даниил Александрович), whom Czar still resents. As a half-hearted apology, the Czar was awarded control over Muscovy, inconveniently located 5,000 miles away just outside Chicago. He now spends his time seething about this and writing about other stuff that bothers him.