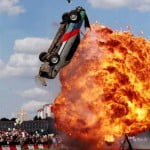 Fox News has this story about the Tata Motors Nano model and some new safety features that are being added to the exhaust and electrical system. Apparently there have been reports of about a dozen of the vehicles catching on fire.
What made your Mandarin nearly spit out his lunch was the actual headline from the story which reads, "World's Cheapest Car Now Available in Non-Flammable Version."
This reads as if the "flammable" version was the base model, and if you wanted one that would not burst into flames when you turned on the ignition, you would need to upgrade to the next option package. Although, it is your Mandarin's understanding that to get the non-flammable package you also have to purchase the satellite radio/navigation package.
But seriously, does anyone in the media actually proof-read these things.

The Mandarin, whose real name is 吏恆, joined the order in 1309, and introduced the Gormogons into England during the 18th Century.
The Mandarin enjoys spending time with his pet manticore, Βάρἰκος, or Barry (who can be found in the Bestiary). When not in the Castle…well, frankly, nobody is quite sure where he goes.
The Mandarin popularized the fine art of "gut booting," by which he delivers a powerful kick to the stomach of anyone that annoys him. Although nearly universal today, the act of gut booting or threatening someone or something with a gut boot is solely due to him.