Mailbag: More On Airport Security Privatization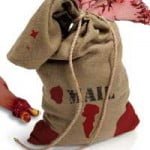 And so the responses to the Czar's airport security proposal keep coming in. EC is first with an appropriate attitude:
Your Czarness:

Yes! Right on!

Moreover:

Not that our government much cares, but where in the Constitution does the federal government have a mandate, an obligation or the authority to regulate access to a private conveyance?

"Let a thousand flowers bloom, let a thousand schools contend…" but we all know how that worked out.

Another great idea from the websiteum Gormogonium!
Eh, it all goes back to the FAA, who ran the airports to ensure there would be a national standard of safety. When it came time to provide airport security, the airlines didn't want to eat the cost of doing it (a foolish mistake, as we described), and dumped it back on the airports to make a common checkpoint that could be used by all. Except, that was back in the day when only a couple thousand people flew each day. Now, the checkpoint is more of a chokepoint.
Meanwhile, JS also writes in with a question:
Dear Mister the Czar,

I liked your post on airport security. The main problem with it is that your solution means less government and the firing of a bunch of unionized workers (right?). That would be a disaster to many politicians. I like it, though.

Have you heard all of the people who want Israel's solution to our problem? I think it's dumb—it won't scale and tons of Americans would find their approach as intrusive or more intrusive than the current policies. I also think most of them haven't flown El Al.

Welp! I hope all the current terrible videos and stories about the TSA are outliers, because it looks horrible for them.

God Bless,

JS
A couple of questions here. First, less government? Yes, but we expect that to become the new expectation over the next 20 years. Heck, the few Democrats who survived 2010 are starting to cough up fiscally conservative platforms, and even the old guard Republicans just got their first butt-kick from the Tea Party. Easy prediction: not their last.
Second, we touched on the unions briefly. Allow the Czar to explain: unions hate hate hate change. Unless of course you point out there is more money to be made. Right now each airport has a couple hundred TSA workers or so, covering different shifts and holidays. Switch the Czar's plan, and every airline is forced to hire hundreds and hundreds for the many airports they serve. Costs go down, but the taxpayers are off the hook. This means the unions can negotiate directly with different airlines to command better wages.
Fact is, this is an ideal example of how the unions can transform: go from a pointless, money-grabbing public sector service union to a bona fide trade union. Airport security is a specialized skill, whether the TSA understands this or not. Mostly not. Make it a trade union, and you suddenly have a career path for employees (apprentice, journeyman, master), experience-based training (imagine what the vets can teach the rookies), and faster adoption of labor-saving methods (yeah, we can process people faster if we try). Employees will be less likely to jump out after a year of public abuse, and will be able to learn some specialized tasks—going from carry-on checking to low level scanning of baggage to working IP-based access control and surveilliance software. You are more likely to endure the rude comments of Old Mrs. Salamander if you know in a few months you are moving on to something better.
Third, regarding El Al, that is a superb observation. In fact, with our humble solution, an airline can be free to try it. There, it will scale much better since it will be on an airline-by-airline basis. And if Americans do not like it, they fly another carrier…and that's the end of that.
Also, you should listen to your Uncle Jay, who naturally agrees the Czar is correct. And if you want a simple explanation why TSA is such a woeful mess, Borepatch provides one in simple, operational concepts. Excellent.

Божію Поспѣшествующею Милостію Мы, Дима Грозный Императоръ и Самодержецъ Всероссiйскiй, цѣсарь Московскiй. The Czar was born in the steppes of Russia in 1267, and was cheated out of total control of all Russia upon the death of Boris Mikhailovich, who replaced Alexander Yaroslav Nevsky in 1263. However, in 1283, our Czar was passed over due to a clerical error and the rule of all Russia went to his second cousin Daniil (Даниил Александрович), whom Czar still resents. As a half-hearted apology, the Czar was awarded control over Muscovy, inconveniently located 5,000 miles away just outside Chicago. He now spends his time seething about this and writing about other stuff that bothers him.