Mail: A Tax Cut Proposal?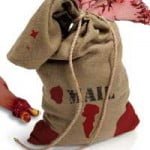 Mail, mail, mail.
First, JS writes in to ask:
I have a question for you—has anyone ever entertained the idea of tax breaks for people with kids in private schools? I know lots of people hate vouchers, but what about a tax break if your kid isn't in public school? After all, that's something that isn't costing the state, and so should probably be rewarded.

Just wonderin'.

God Bless ya,
Thanks! And excellent question, too.
It seems a fair notion, but it would be fairly disruptive on face value. Basically, you're describing an income tax break, we assume. And, we assume, that income tax break would be a federal one, although you do mention the state.
But many areas use county property taxes to pay for the schools themselves, which is a high expense pulled from a small quantity of taxpayers. By giving property owners a tax break for kids in private schools, you take away quite a bit of funds for the public schools. For example, there is a smallish suburb near Muscovy with pretty hefty property taxes. The public schools there are pretty good. However, this suburb is also home to a very popular (and large) private school. If the thousands of students in that school, a vast majority of whom live in that suburb, earned their parents a tax break, the revenue that generates for the public schools would very evidently and immediately plummet. Result? Property taxes go up for the rest, which would penalize them to the point of voting for a law change back to the way it was.
This would be pretty dramatic: even in a community with a lot of kids, most property homeowners do not have kids in schools at all. In fact, one of the problems with building new schools for overcrowded districts is because only about 15% of taxpayers actually have kids in a public school. Or so a school board member tells us. He said that usually you do not get funding for a new school until conditions are so bad that local businesses seek to move out because the local teenagers are too stupid to hire. No cynicism here: he explained that nothing will get built until the local paper slaps a story on its front page directly linking a poor local economy to the school conditions…and then referendum money comes rolling in.
So what happens? The people without kids start demanding a tax break as well. Heck, they cost the district nothing at all! So how come they pay more when parents with kids get a break? Never mind that those parents use private schools…where is my break?
So, alas, the whole thing becomes a huge mess. Oh, and let us not forget the skyrocketing workload on the assessor's office, who now has to re-assess property values based on school enrollment. Instead of having to reassess a home every few years, they will now have to do it yearly based on what schools your kids may or may not attend.
A good idea—but thornier than heck to implement. Bless ya right back, by the way.
So what say you smart folks? Does JS have a solid idea here? Is the Czar wrong in his (ahem) assessment of the situation? Let us know.

Божію Поспѣшествующею Милостію Мы, Дима Грозный Императоръ и Самодержецъ Всероссiйскiй, цѣсарь Московскiй. The Czar was born in the steppes of Russia in 1267, and was cheated out of total control of all Russia upon the death of Boris Mikhailovich, who replaced Alexander Yaroslav Nevsky in 1263. However, in 1283, our Czar was passed over due to a clerical error and the rule of all Russia went to his second cousin Daniil (Даниил Александрович), whom Czar still resents. As a half-hearted apology, the Czar was awarded control over Muscovy, inconveniently located 5,000 miles away just outside Chicago. He now spends his time seething about this and writing about other stuff that bothers him.