How to Fix Airport Security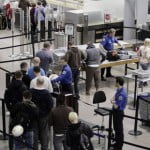 What a mess the TSA finds itself in.
The Czar has a crazy proposal on how to solve the entire security issue at airports: eliminate the TSA.
Simply and seriously, just announce that the TSA will no longer be provided to airports as of December 31, 2011.
Instead, the airlines will become responsible for the security of their passengers. The airlines can use any combination of body scanners, magnetometers, pat downs, strip searches, or a friendly wave as you pass through. Whatever. The airline can offer no security at all, just like what happens when you use a small airport with a private plane.
But Czar, you say: what will stop the terrorists? Easy. If there is no governmental agency, only the airlines can be responsible for their passengers' safety. If something goes wrong, the airline is sued by the survivors, and no one else.
This aspect not only makes it in the airlines' financial interests to get it right, but to do it cheaply. If Sputtle AIrways offers pretty good security at a low price, and Gogenji Air offers poor security at a high price, which airline will generate more profit? Hint: not the expensive one.
But Czar, you say: won't this increase the cost of the ticket? After all, all that security will have a massive capital price tag, and operations costs will swell! Yes, initially it will. But as airlines compete, using security as a marketing tool, costs will go down. And by how much? That is up to the airline. An airline can tout their security enhancements—our planes are so safe you can get a freaking metal fork and knife with your meal again—and add an upcharge.
Yes, this will increase the cost of air travel; but let us face reality: air travel has always been a business necessity and a bit of a luxury. It was only in the 1980s that low-fare airlines popped up flying major routes to major airports. Prior to that, the adjust cost of a ticket was ghastly, and you could fly a budget airline, but you would wind up in some place unimpressive, at best.
For a couple years, you might see that $189 one-way weekend special become a $600 round-trip ticket on a weekday. But when you look at what people actually pay for a round-trip, non-red-eye, refundable weekday flight to a key destination inclusive of fees and taxes and airport security fees, that new number won't be too far off.
So you go to the airport, and decide that Sputtle offers a better price at a day and time you need to leave. You get to the airport, where your luggage is inspected by trained personnel. In the meantime, your credentials have been checked and you have walked through a magnetometer. Oh yes, a background check was performed by deputized and bonded personnel to ascertain whether you pose a risk to the other passengers. Perhaps you were profiled: who knows? The information is privately kept, and the airline (not being a public agency) is free to profile you and approve or decline your ticket.
Unfair? Airlines can do it today, but you do not realize it. If you show up to the gate, and the agent feels you are intoxicated, unwell, or pose some other risk to the flight, you're benched, pal. Good luck getting home. Airlines profile all the time, but get away with it because they have the right to refuse service to anyone for any reason.
Meanwhile, the taxpayer pays nothing for this. All the money comes from the ticket. And okay, maybe you dislike the idea of someone running a background check on your ticket. Go fly Gogenji: they do not do background checks. Of course, they have had some major security incidents that hurt a lot of people, but you get what you pay for.
There are two more points to consider. First, the plan is not perfect. Presently, no airport is well-served by such a plan: there simply isn't sufficient physical space for an airline, who might have only a couple of gates at SFO, for example, to put in the equipment to screen passengers. But this can be optimized over time. Airlines could even share resources, or pay the airport (or even recently laid off TSA personnel) to do this. There are solutions, and the free market will make it happen fast.
The second issue that this proposal is not intended to circumvent international travel. Your airline of choice is not required to perform immigrations and customs checks; that process would remain as is (until the Czar can figure out a quick and cheap way to fix that, too). Landing in the US would be pretty much the same; departing, though, we be a whole lot faster, safer, and more comfortable.
The Mandarin, who knows more about this stuff than anyone should, is intrigued by the idea. The airlines and unions will balk at the change, he suggests, but the Czar knows they would have no choice once the TSA plug gets pulled with a year's advance warning. The airlines would quickly realize that security pays dividends provided it is treated as a free market asset, and of course the unions would suddenly find a need to supply thousands of security personnel to hundreds of airports.
And the next time some guy doesn't want a security guy touching his "junk," he can fly another airline.

Божію Поспѣшествующею Милостію Мы, Дима Грозный Императоръ и Самодержецъ Всероссiйскiй, цѣсарь Московскiй. The Czar was born in the steppes of Russia in 1267, and was cheated out of total control of all Russia upon the death of Boris Mikhailovich, who replaced Alexander Yaroslav Nevsky in 1263. However, in 1283, our Czar was passed over due to a clerical error and the rule of all Russia went to his second cousin Daniil (Даниил Александрович), whom Czar still resents. As a half-hearted apology, the Czar was awarded control over Muscovy, inconveniently located 5,000 miles away just outside Chicago. He now spends his time seething about this and writing about other stuff that bothers him.