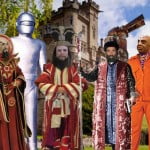 …from the Gormogons!

(from left to right, the Mandarin, GorTechie, the Œcumenical Volgi (id est, 孔夫子, The Notorious ŒV), the Czar of Muscovy, and Ghettoputer Gormogon. Taking the photo, and not in the picture, is Sleestak (one of the few things the idiot did right, although 'Puter beat him mercilessly anyway); the house assistant Dat Ho is inside manning the Mandarin's superlaser on the top of the castle. Click to enlarge.)
A short list of items each of us is thankful for:
The Mandarin is thankful for matches, his mastery of trans-stoichiometric geometry, applesauce, the Complete Guide to Dirty Tricks in Judo, and the new SR-71 he just received.
GorT is thankful for his Apple iPhone 82 (which now supports Flash), rotator cuffs, edible underwear, and Mumgriffe's The Decline and Fall of the Timor Empire.
Volgi is thankful for yeti puppies, beard combs, his new Prince Albert simulator, six new diacritical marks previously undiscovered, and flannel sheets in winter.
The Czar is thankful for the size of his hands, a well-sharpened axe, tie-dye fedoras, a Bushmaster 5.56mm rifle, and that cute girl that takes his order at the beef place. Even though he knows it won't go anywhere because she tends to not date guys who are (a) married and (b) about five centuries older than she is. And Jello eggs.
'Puter is thankful for zebus, clean pants (especially in back), his new back (GorT put it in…and back in when it fell out when 'Puter was drunk on Listerine and tried to do eighteen pull ups on a closet coat rod), football, flame throwers, and football (no, the other kind).
We hope your Thanksgiving is indeed wonderful, and remind you to give real thanks for all the good things you have received, all the bad things your family did not experience, and all the great things that were not yet taken away.

Божію Поспѣшествующею Милостію Мы, Дима Грозный Императоръ и Самодержецъ Всероссiйскiй, цѣсарь Московскiй. The Czar was born in the steppes of Russia in 1267, and was cheated out of total control of all Russia upon the death of Boris Mikhailovich, who replaced Alexander Yaroslav Nevsky in 1263. However, in 1283, our Czar was passed over due to a clerical error and the rule of all Russia went to his second cousin Daniil (Даниил Александрович), whom Czar still resents. As a half-hearted apology, the Czar was awarded control over Muscovy, inconveniently located 5,000 miles away just outside Chicago. He now spends his time seething about this and writing about other stuff that bothers him.