Guest Post: MS on Veterans Day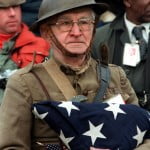 From Gormogon reader MS:
Today is a special day indeed for those of us who have worn our nation's uniform and were blessed enough to survive doing so. Many of our compatriots were not so blessed and today we honor them. Change, when it occurs, is frequently for the worse and standards almost never improve with change or time. Allow me to illustrate this.
My father was from Canada and fought for this country when it wasn't even his, technically, as he wasn't a citizen but obtained his citizenship through the military during WWII. Growing up in Canada had a profound influence on him in a number of ways, one of which he described to me long ago and has stayed with me since then, particularly on this day.
After WWI, in Canada, every November 11th was a somber occasion indeed. Canada proportionally lost many more men per capita of its population than the U.S. did in WWI. Some provinces, like Newfoundland (which at that time was not technically a part of Canada but was a British colony), suffered even heavier losses than the Canadian average. There was much genuine grieving in Canada on Armistice Day, as it was then called (now Remembrance Day). At 10:58AM on November 11, factories began to slow their assembly lines; ships under way slowed to steerage speed (walking speed); fast, big-name passenger trains (real money-makers in those days, believe me) slowed to a stop; traffic in cities and in rural areas slowed to a stop; and folks stopped what they were doing. At 10:59AM factory whistles and tram horns blew and people maintained silence and stopped what they were doing. They held this silence for two minutes. At 11:01AM things picked back up to normal and folks went their way.
The U.S. had their own way of marking this event. Canada still does a pretty fair job of reminding its citizens of the grief they suffered, now through two world wars and the struggle that's now been forced on us.

A far cry from today when many school children don't even understand why they've got today off—if they even do any more.
My thanks to your august majesty to suffer his subject's prattling but he just had to get this off his chest as he mourns the off-handed way this day is treated by so many.

Божію Поспѣшествующею Милостію Мы, Дима Грозный Императоръ и Самодержецъ Всероссiйскiй, цѣсарь Московскiй. The Czar was born in the steppes of Russia in 1267, and was cheated out of total control of all Russia upon the death of Boris Mikhailovich, who replaced Alexander Yaroslav Nevsky in 1263. However, in 1283, our Czar was passed over due to a clerical error and the rule of all Russia went to his second cousin Daniil (Даниил Александрович), whom Czar still resents. As a half-hearted apology, the Czar was awarded control over Muscovy, inconveniently located 5,000 miles away just outside Chicago. He now spends his time seething about this and writing about other stuff that bothers him.