Forgotten History: Part 11,387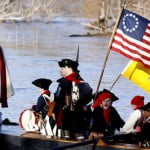 It was a bitterly cold Christmas Eve when General George Washington stepped out of the freezing rime to view the Delaware River. He stared nervously down a long road, concerned with thoughts of British scouts rumored to be near Yardley. The cheer of having the men of Gates and Sullivan join his troops was altogether dimmed by the prospect of facing Howe's redcoats in the morning.
Lt. Col. John Cadwalader stepped from the treeline, his boots snapping branches, and fog pouring like smoke from his nose and mouth. "General, have our fortunes improved for crossing the river?"
"Yes, in fact," Washington said, "I dare think our salvation has come at last." With that, Washington raised his arm at the oncoming flood of light. A bright yellow minivan pulled to a stop, brakes squeaking. "Summon the men at once," ordered Washington. Cadwalader turned and bellowed for full assembly.
"Yeah, where you going?" asked the cabbie through the passenger window.
"Trenton. We have extra passengers," said Washington.
"Yeah, that's Jersey, pal, on the udder side of the river."
Washington nodded and pulled open the side door. Cadwallader began hurrying the men into the van, urging them toward the rear seats.
"Whoa, whoa," chided the cabbie. "How many guys you got there?"
Washington shrugged. "Six-thousand men, and artillery. Toward the back, Colonel, if you please."
The cabbie cleared his throat with an exaggerated cough. "You gonna be able to pay for all this?"
Washington sighed. "All our funding comes from the Continental Congress. We can pay you in New Jersey, as I presently expect a dispatch from Boston."
"Yeah, I'm gonna need to see the money first. Cash, if you don't mind."
Washington paused, his irritation growing. "Very well. John, the man wants his species. What have we got?" At once, Lt. Col. Cadwallader began whispering to Generals Gates and Sullivan. In turn, word was promptly passed up and down among the men. Washington turned to the driver. "About three-hundred fifty."
"Okay, get in," said the driver.
Washington, in a mix of embarrassment and frustration, advised, "Continental dollars."
"Cash is king, my friend," mused the driver. "Hey, wait, is that a dog?" The driver pointed to a large black Neapolitan mastiff that jumped into the van.
Suppressing his outrage, Gen. Horatio Gates growled a reply. "That, good sir, is Whisper, a gift from Ambrose Cullilly of the Plantations of Rhode Island, and he is as much of a member of this army as I am."
"No dogs," cried the driver, tapping a red on white sticker on his dashboard that said, not coincidentally, no dogs. "I don't want that thing slobbering on anything a fare touches."
"We'll put down a blanket," offered Washington, jerking his thumb toward an aide-de-camp who prompty produced a worn blanket from a satchel. "Can we get going?"
The driver grimaced and pushed a button above the rear view mirror. The side door whirred closed and latched with a thorough clunk. The cab began to drive forward.
"Nervous, or excited?" asked Washington to a grime-faced boy clutching a musket.
"Confident, sir," said the boy with a smile.
The driver slowed to a stop and turned in his seat. "Hey, how old is that kid?"
"Thirteen," said the boy.
The driver threw the transmission into park. "I ain't taking that kid across state lines unless he's got a parent or guardian with him."
Washington's patience was at an end, and he raised his voice in anger. "This is Private Samuel Dunham of the Massachusetts Dunhams, and he is essential to our campaign to kill the British."
The side door of the van prompty popped and slide open. "Sorry, pal," said the cab driver. "I don't like the sound of this. I didn't say nothing about the guns, or all the guys in back, but Jesus, I ain't taking no kid into anudder state when you're talking about killing people."
"This is absurd," bellowed Washington. "How are we to get to Trenton by morning? There won't be another cab for hours."
"Look, it ain't my problem, buddy," said the cabbie, "But you can grab a couple of boats down at McConkey's."
Within minutes, Washington and his men were at the frozen edge of the road, watching the red glow of the cab's tail lights disappear to the North.
"Guess we're taking the ferry," said Washington to no one in particular.

Божію Поспѣшествующею Милостію Мы, Дима Грозный Императоръ и Самодержецъ Всероссiйскiй, цѣсарь Московскiй. The Czar was born in the steppes of Russia in 1267, and was cheated out of total control of all Russia upon the death of Boris Mikhailovich, who replaced Alexander Yaroslav Nevsky in 1263. However, in 1283, our Czar was passed over due to a clerical error and the rule of all Russia went to his second cousin Daniil (Даниил Александрович), whom Czar still resents. As a half-hearted apology, the Czar was awarded control over Muscovy, inconveniently located 5,000 miles away just outside Chicago. He now spends his time seething about this and writing about other stuff that bothers him.