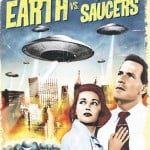 Gormogon operative and royal surgeon Dr. J posits the following question to your Mandarin:
Inscrutable Mandarin,
I've noticed that there are more reported UFO sightings in the news during Democratic administrations.
Is there a reasonable explanation for this, or is it a subconscious manifestation of the atheist left needing to believe in something?
Best,
Dr. J.
Royal Surgeon.
To be blunt, there is a reasonable explanation for this, but that really wouldn't make for an interesting response. Therefore, your humble and dreaded Mandarin offers you and your fellow readers the following unreasonable explanations for this uptick in UFO sightings:
In an effort to gain additional votes, Democratic administrations tend to offer up immigration reform plans (a.k.a amnesty for illegal aliens). So what you may have here is a bunch of aliens trying to take up residency so that when this reform is passed they can claim instant citizenship and escape the brutish and oppressive laws of the galactic government. Plus they are here to do jobs that most Americans or humans for that matter will do. But before you think that your Mandarin is blaming the Obama administration for this, understand that the T.V. and radio transmissions would have taken at least 20 years to reach out into space. So this really is Bill Clinton's fault.
During a Democratic administration there is a tendency for spending on defense initiatives to be cut out in favor of social programs. The Gormogons know when the Democratic administration is replaced by a Republican administration that defense spending will be reinstated and new weapons required to rebuild the arsenal of democracy. And standing at the ready to provide these weapons will by the Gormogons. So these UFO sightings actually correspond to our orbital weapons development and testing program.
Regarding whether these sightings are a manifestation of the atheist left's need to believe in something, just remember the old saying that there are no atheists in fox holes. I'm sure when our alien overlords begin vaporizing major population centers, most of the atheists are going to hedge their bets and find religion just before their molecules are scattered across the universe.
Hopefully these answers have brought some clarity to the issue of UFO sightings and what is behind them.

The Mandarin, whose real name is 吏恆, joined the order in 1309, and introduced the Gormogons into England during the 18th Century.
The Mandarin enjoys spending time with his pet manticore, Βάρἰκος, or Barry (who can be found in the Bestiary). When not in the Castle…well, frankly, nobody is quite sure where he goes.
The Mandarin popularized the fine art of "gut booting," by which he delivers a powerful kick to the stomach of anyone that annoys him. Although nearly universal today, the act of gut booting or threatening someone or something with a gut boot is solely due to him.