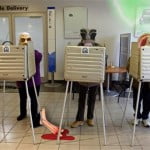 BG, as a reward for his hard work on our subatomic miniaturizer project, was given Election Day off; he writes in with some election coverage thoughts:
Dread Gormogons –

I'm planning to watch MSNBC's election night coverage because I want to see if Keith Olberman goes Howard Beale on us. You doubtless remember Mr. Beale from the movie, Network:

I would like at this moment to announce that I will be retiring from this program in two weeks' time because of poor ratings. Since this show is the only thing I had going for me in my life, I've decided to kill myself. I'm going to blow my brains out right on this program a week from today. So tune in next Tuesday. That should give the public relations people a week to promote the show. You ought to get a hell of a rating out of that. 50 share, easy.

I suppose I don't want to see Keith Olberman blow his brains out. But is it churlish of me to relish the thought that he might attempt to chew his own head off his shoulders?
The Czar suspects that if Mr. Olberman tried to blow his brains out on live television, the end result would be a little lacking in substance. That says, we wish Mr. Olberman a grand retirement. We understand that he has "volunteered" to put his Worst Person in the World segment on permanent hiatus because Jon Stewart was right: it is time to end the hate.
So you end it now, when your task masters are being drummed out of office? Odd timing, Keith. How about ending it because you are hardly qualified to act with sufficient élistism such an appointment necessitates. Mandarin owes him a boot in the gut.
The Czar will use the Internet tonight to monitor election results, since he grows weary each election of local anchors saying inanities like "And with 0.02 percent of the vote in, we are declaring Rick Shaw the winner."
DT also pauses his supervision of black-clad Tcho-Tchos sliding down ropes while spraying submachine gun fire (Volgi, what is Project SmokeBang anyway?) to dart off a quick note:
Oh Mighty Czar,

I tried as I might, but I didn't quite make it past the electioninjas. I head-faked one, hip-checked another, but a third dove across the room and tagged me with an "I voted today" sticker.

What gives these 98-year-old retired schoolteachers their superpowers? Are they human, or just something brewed in a vat at the castle?
You are not alone. The Mandarin was forced to use a spinning leg sweep to take out a 78-year-old woman. Unfortunately, this was three weeks ago in Aisle 3 at the Liquor Locker, and yes, we had to pay some damages there. But God bless them for volunteering. As he attempted to completely fill in his ballot circles with human blood, the Czar was surprised to see, in addition to the requisite elderly ladies, a wide swath of election volunteers from different ages! There was a Napoleonic soldier, an Ice Age hunter with fire-hardened spear, one of William the Conqueror's lieutenants, and inevitably some giggly priss in a powdered wig and fake mole (who wouldn't look up from his iPad).
But DT has been awarded a new project: brewing superpowered schoolteachers in vats at the Castle. The question is how to empower them: biologically, per Mandarin? Cybernetically, per GorT? Supernaturally, per Volgi? Or just make 'em super-smokin' hot, per 'Puter? Oh, wait—that's what Project SmokeBang is. Now we remember.

Божію Поспѣшествующею Милостію Мы, Дима Грозный Императоръ и Самодержецъ Всероссiйскiй, цѣсарь Московскiй. The Czar was born in the steppes of Russia in 1267, and was cheated out of total control of all Russia upon the death of Boris Mikhailovich, who replaced Alexander Yaroslav Nevsky in 1263. However, in 1283, our Czar was passed over due to a clerical error and the rule of all Russia went to his second cousin Daniil (Даниил Александрович), whom Czar still resents. As a half-hearted apology, the Czar was awarded control over Muscovy, inconveniently located 5,000 miles away just outside Chicago. He now spends his time seething about this and writing about other stuff that bothers him.