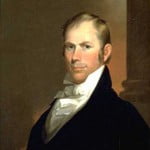 John Boehner was addressing the new House members over the weekend, and decided to talk a little history.
I mentioned Longworth earlier; another great Speaker was Henry Clay. Henry Clay did something noble: he left the Senate to join the House. He liked the 'turbulence' of the House, compared to the 'solemn stillness' of the Senate….Towards the end of his time in public service, Henry Clay said, 'Government is a trust, and the officers of the government are trustees. And both the trust and the trustees are created for the benefit of the people.' Henry Clay got it. It's not about us. It's about the people.
Well, it is true that Henry Clay did and said these things. But it would be dicey at best to hold Henry Clay up as an example of how a politician should act: he consistently schemed and manipulated people in order to get himself President, being one of the most spectacularly unsucessful candidates in American history. Hardly a presidential election went by that Clay was not exposed for betraying alliances, conspiratorial plans to get himself elected, or swindling voters. In one horrible instance, he even threatened President John Tyler for failure to obey Clay. Tyler refused to be intimidated by Clay's threats, and subsequently became a pariah of the Whig party under Clay's influence—because Clay did not want Tyler to run for re-election, paving the way for his own re-attempt.
Decide what you wish about Henry Clay; the Czar always believes that a politician incredibly desperate to seize power by any means necessary must, ipso facto, be prevented from achieving that power. Murkowski. Grayson. Clinton.
Clay did not, however, get that it was about the people. Clay was all about himself.

Божію Поспѣшествующею Милостію Мы, Дима Грозный Императоръ и Самодержецъ Всероссiйскiй, цѣсарь Московскiй. The Czar was born in the steppes of Russia in 1267, and was cheated out of total control of all Russia upon the death of Boris Mikhailovich, who replaced Alexander Yaroslav Nevsky in 1263. However, in 1283, our Czar was passed over due to a clerical error and the rule of all Russia went to his second cousin Daniil (Даниил Александрович), whom Czar still resents. As a half-hearted apology, the Czar was awarded control over Muscovy, inconveniently located 5,000 miles away just outside Chicago. He now spends his time seething about this and writing about other stuff that bothers him.