Czar's Mailbag Is Now Empty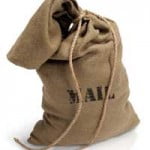 The Czar is finally getting around to tackling a backlog of mail.
First up, BG writes in:
I read this and all I could think was, "Arghhh! The stupid! It burns!!!!!!!!!"

So on the one hand, we have to cut, cut, cut because fiscal catastrophe is looming. On the other, we have to make the problem worse by shoveling more money to the rich because…taking care of those with tidy incomes is contemporary conservatism's highest purpose.

So not raising taxes on someone is the same as "shoveling money" at him. I'm thinking if the Czar were to visit Mr. Dionne's desk at the Washington Post and decided to not take Mr. Dionne's wallet, Mr. Dionne would thank him for shoveling money at him.

If The Czar cares to pay such a visit (axe optional), I'll be happy to supply him with a Washington, DC metro fare card.
Yes, this touches on a sore subject of the Czar's; namely, liberals tend to be incredibly ill-informed as to how the economy works, whether it be taxation, corporate revenues, personal income, stockholder dividends, and on and on. Perhaps it is because so few liberals actually ever ran or plan to run a business with employees.
BG is right on the nose when he points out the fallacy in the above quote. And the analogy is great.
What causes this is simple: folks like Dionne have no clue who or what a rich person is. To them, the Rich consist of this massive coalition of guys with monocles and top hats, lighting cigars with $50 bills. In other words, the Monopoly robber barons of the late 19th Century. And that is generally as far as many liberals's economic sense goes.
The reality is that Rich generally consist of small business owners, who have their personal finances legally bound to their businesses: partnerships, LLCs, S-corps, and so on. If the business pulls in $350,000 in revenues, he or she has just pulled in $350,000 in income. Here, let us explain it like this. Here is the small business formula, greatly simplified so that even E.J. Dionne can understand it: [Gross revenues] – [Material costs] – [Payroll] – [Other expenses] = [Owner's take home pay]. As all taxpayers know, here is the tax formula: [Gross revenues – legitimate deductions] = [Taxable income]. That means the small business owner basically gets taxed on his $350,000 gross revenues for the year, even if his actual take home pay is only $35,000.
No, don't write in to correct this. The Czar knows this is greatly simplified. The point is twofold: first, the small business owner appears to be in a higher income tax bracket when his actual finances are not, and two, that when liberals say "Raise taxes on the rich!" they do not realize they are saying "Raise taxes on a guy who is actually a middle-class business owner." The next time you stop in to your local restaurant for take-out food, realize the guy who owns that dump is "rich" according to where liberals want to set income levels.
Next up, MC writes in:
Dreadfully awful Czar,

Or is that "awfully dreadful"? Maybe it's both. Anyway….

I stumbled across this WSJ article today, here's a quote in particular I found interesting:

A more telling signal was that, based on the cost of insurance contracts, CMA Datavision listed both states (California and Illinois) in June among the 10 biggest government default risks in the world. Illinois was at greater risk of default than Iraq. Yet thanks to the BAB subsidy, Illinois was still able to borrow some $300 million in bonds by offering a 7.1% interest rate.

Perhaps Illinois should be bombed and invaded to lower its default risk.

Seriously, though, I had missed out on this little initiative by Obama to subsidize the debt crack habits of some states.
This didn't get missed. By the time we got around to replying to this, the conservative world has lit up on (and against) rumors of state bailouts. The problems with bailing out states are many: ranging from strong Constitutionality concerns (the states would not be beholden to the Federal government on a whole new level) to financial (who is providing this money, when we cannot even bailout our Federal government).
The Czar expects this to be topic of outrage in the New Congress.
Third up, EC writes in:
Your Czarness:

Interesting point, among many interesting points that permeate your blog.

Working backwards, Obama clearly wanted to be President more than McCain did. (No disrespect meant by leaving off their honorifics: just saves time in this list.)

In 2004, Kerry clearly wanted it more than W did. Didn't overcome the power of the incumbency.

In 2000, Gore clearly wanted the job more than W did. (And hasn't really recovered from the loss yet.)

In 1996, Clinton clearly wanted the job more than Dole did: in fact, Fred Thompsonlike, Dole pretty much just stood up and waited to see what would happen.

In 1992, Clinton clearly wanted the job more than HW Bush did, perhaps because Bush had already learned that it was no picnic.

In 1988, I'm not sure either Bush or Dukakis had the requisite fire in the belly, but by a process of elimination, one of then had to win it.

In 1984, Reagan and Mondale both seemed to feel it was their duty to run and to keep it from the other guy.

In 1980, Reagan really wanted the job so he could reverse the malaise of Carter and Carter only wanted to hold on from spite, which he has continued to display pretty much non-stop ex-officio.

In 1976, no real fire from either side, which probably contributed toe the aforemetioned malaise.

In 1972, Nixon probably wanted it more than McGovern, simply because he was a combative so-and-so and McGovern, while a genuine war hero was too reticent to make anything of it. (Mr. Nixon was also a WWII vet, but I don't think he saw combat, although he was deployed and perfected his poker skills.)

In 1968, Nixon was not only combative but also hungry to overcome his years in the wilderness and Humphrey was tainted by being too close to LBJ.

In 1964, LBJ and Goldwater were probably both equally fervent, one to maintain his life in politics, the other to fundamentally change the American polity. One prevailed and look where that got us.

In 1964, JFK and Nixon were both pretty fervent also, but not equally skilled.

I think that's probably more examples than you will care to remember. In summary, those that wait for lightning to strike, usually don't make it past the primaries. This is probably a Bad Thing for the nation, but we don't seem to pick 'em that way anymore.

Of course as a Czar, you didn't have to run for office, only run faster than your family members, until you could get the drop on the…/ erc
Wow, these are really great examples. Readers may consider your list items a bit arguable, but hey—the original quote itself was arguable.
The question might be whether Reagan wanted the Presidency, or felt it was his duty to run. Nixon, Carter, and Clinton certainly wanted the position, and they were a bit disastrous for the office. Johnson, of course, did not seek the presidency (although there is debate he certainly would have, given time), and he was no picnic. Even so, you raise great points that duty versus desire is no real metric for anticipating who should run.
Fourth up, Dr. J. says writes in:
Dreaded Czar,

I was reading an article about (soon to be former) Speaker Pelosi's viscerally negative reaction to the imperfect Bowles-Cranston report on the debt. It discusses in particular the antipathy Democrats have to touching Social Security age and means requirements.

It all of a sudden hit me.

Speaker Pelosi is in her 70s.

She has a full time job.

Indeed, many old people can and do work.

Like Speaker Pelosi, Dr. J's mother is in her 8th decade of life and working a full time job. In a fit of irony, she invests her social security checks for her future. She has her calendar booked out until her 10th decade given her family history of longevity.

Dr. J has two practicing septugenarian colleagues and one semi-retired octagenarian colleague who gets kicked out of the house by his lovely bride every morning and is not allowed to return home until 5.

Dr. J believes that we should treasure and value our silver haired colleagues, as there is a tremendous amount that we can learn from them. Dr. J learns much about his craft from these folks who pioneered the field in the 60s, 70s and 80s.

When one thinks about it, there are about 44 Senators and about 99 Congressmen old enough to collect Social Security for whom being a pain in our necks is a full time job.

While they are demagoging the entitlement issues, a Gen X congressman who was in high school at the same time as the Gormogons and their Royal Physician is one of the only people in Washington with the courage to address the Ponzi Scheme head on. (Dr. J is referring to The Czar's man crush, Paul Ryan) [Czar's note: ♥♥♥♥♥!].

Were it up to Dr. J, folks over, 55 or so get social security as promised, and those who work will unfortunately have to pay some continuously decreasing amount of social security tax over time to maintain solvency until the beneficiaries age out of the system. Dr. J learned the term 'age out of the system' from a scary progressive friend. Being a compassionate Royal Physician, Dr. J would leave some sort safety net for those who can't work and meet some sort of means test. Dr. J flys at 10,000 feet, so he can't be bothered with details. He has HR people for this sort of thing. But the esteemed Gormogons get the idea.

The upside for young people (those under, say, 55) is that they if they are permitted to contribute, pre-Tax, to the Thrift Savings Program that federal employees contribute to. Again, Dr. J will leave things like contribution caps and matching incentives to the politicians.

Congress would be their usual hypocritical selves if they say that their own retirement savings plan is a risky proposition. Dr. J expects nothing less from these weasels, however. They like to keep their jobs.

Best,
Dr. J.
A while back, the Czar was grousing about privatizing unemployment insurance. Easy methods to do this for retirement did not exist in the 1930s but exist by the thousands today. Why not phase out social security as suggested here? Readers?
By the way, the Czar works, and he is in his 75th decade.
Fifth up, EC rewrites in:
Your Czarness:

I have Korean in-laws of differing degrees of assimilation. Some explain the passivity of the South Korean government by the belief that the Norks have mines under portions of Seoul and are holding the city hostage. I am skeptical, but there have been extensive tunnel systems discovered under the DMZ, which probably inspired this rumor.

Interesting times. / erc
Yes, indeed, you are correct. This is a powerful urban myth (mythical in that no North Korean tunnels or mines have ever been found below Seoul, but many Seoul-in believe there exists strong probability of it), all based on the historical reality that at some point, the North experimented with deep tunnels under the DMZ. However, the North learned that tunnels were hard work, expensive, and—oh yeah—required more ventilation than they could silently provide.
The average South Korean is not necessarily passive, but more trusting that business must continue, even though annihilation is a 30-minute drive away. Shooting a couple hundred rockets into an island, losing a couple of soldiers, etc., is not unexpected when your country has been literally at war for 60 years.
Last up, JR writes in:
"I don't think about Sarah Palin," Obama told ABC's Barbara Walters in an interview set to air Friday.

Instead, he said he's focused on being "the best possible president," while he acknowledged Palin's lure.

Holy crap! You mean this is really the best he can do?
Well, the 2010 half-time speech doesn't seem to have improved his A-game.
But let us be fair. Many of us hate working for a living.

Божію Поспѣшествующею Милостію Мы, Дима Грозный Императоръ и Самодержецъ Всероссiйскiй, цѣсарь Московскiй. The Czar was born in the steppes of Russia in 1267, and was cheated out of total control of all Russia upon the death of Boris Mikhailovich, who replaced Alexander Yaroslav Nevsky in 1263. However, in 1283, our Czar was passed over due to a clerical error and the rule of all Russia went to his second cousin Daniil (Даниил Александрович), whom Czar still resents. As a half-hearted apology, the Czar was awarded control over Muscovy, inconveniently located 5,000 miles away just outside Chicago. He now spends his time seething about this and writing about other stuff that bothers him.