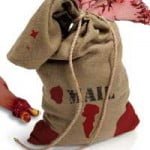 The Big Guy from Listen To Uncle Jay writes in:
"The peasants are revolting!" —Sir Rodney, The Wizard of Id, Parker & Hart

O Cruel and Vicious Czar,

By the Grace of God, Emperor and Autocrat of All the Russias, of Moscow, Kiev, Vladimir, Novgorod, Czar of Kazan, Czar of Astrakhan, Czar of Poland, Czar of Siberia, Czar of Tauric Chersonesos, Czar of Georgia, Lord of Pskov, and Grand Duke of Smolensk, Lithuania, Volhynia, Podolia, and Finland, Prince of Estonia, Livonia, Courland and Semigalia, Samogitia, Belostok, Karelia, Tver, Yugra, Perm, Vyatka, Bulgaria and other territories; Lord and Grand Duke of Nizhni Novgorod, Sovereign of Chernigov, Ryazan, Polotsk, Rostov, Yaroslavl, Beloozero, Udoria, Obdoria, Kondia, Vitebsk, Mstislavl, and all northern territories; Sovereign of Iveria, Kartalinia, and the Kabardinian lands and Armenian territories – hereditary Lord and Ruler of the Circassians and Mountain Princes and others; Lord of Turkestan, Heir of Norway, Duke of Schleswig-Holstein, Stormarn, Dithmarschen, Oldenburg Et Cetera, Ad Nauseam….

This lowly worm cannot understand why Your Unctuousness let this kind of drivel escape into the Interwebz….

No doubt you have some Higher (or perhaps Lower) Purpose, but a feeble mind such as my own cannot hope to understand it.

A complete history of the Soviet Union through the eyes of a worker.
Well… first things first.
Actually, it's Божію Поспѣшествующею Милостію Мы, Дима Грозный Императоръ и Самодержецъ Всероссiйскiй, цѣсарь Московскiй. Only the Czar of Muscovy, thanks so much second cousin Daniil. We got screwed over in 1283; didn't even get Vitebsk. So while we might have enjoyed a nice slice of Perm, we got Muscovy. Not that we are bitter. Although we are. Quite bitter.
That out of the way, the Czar had nothing to do with the above video, although he enjoyed it very much. Great production values! Superb symbolism: they did their homework.
Volgi probably knows the guy who did it personally.

Божію Поспѣшествующею Милостію Мы, Дима Грозный Императоръ и Самодержецъ Всероссiйскiй, цѣсарь Московскiй. The Czar was born in the steppes of Russia in 1267, and was cheated out of total control of all Russia upon the death of Boris Mikhailovich, who replaced Alexander Yaroslav Nevsky in 1263. However, in 1283, our Czar was passed over due to a clerical error and the rule of all Russia went to his second cousin Daniil (Даниил Александрович), whom Czar still resents. As a half-hearted apology, the Czar was awarded control over Muscovy, inconveniently located 5,000 miles away just outside Chicago. He now spends his time seething about this and writing about other stuff that bothers him.