Banging Away At the Big One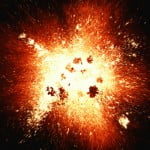 Before your local newspaper screws this up, the Czar thought he should try to explain a curious news item going around the scientific circles.
The story is that famous physicist Roger Penrose has described evidence that supports a controversial theory of universe inflation. This is big news in physics, but the net result for you is "but that's it." Before anybody gets excited, let us explain.
In modern cosmology, the basic premise is this: the universe started out as a single point. The entire mass of the universe was packed into one point, which made temperatures so hot that there was neither matter nor energy: in fact, there were no subatomic particles as we think of them today. Just "soup,&#148 with zero entropy (because there is no energy to speak of, there is none to waste). This is inherently impossible to sustain, so the resulting mess blew up in a huge explosion. Big Bang, see? Over time, as the chunks flew apart like a bomb, they cooled down. Eventually, they cooled enough to where subatomic particles formed, and matter separated itself out from energy. In time, star-like things formed, blew up themselves, and created higher elements. These formed back into real stars, which got together into galaxies, and so on.
Today, we see that the universe is still expanding at a tremendous rate. Like shrapnel in a bomb, stuff continues to fly apart from each other. As it does, it gets harder to stuff to get together and form new stuff, like stars and planets. Over time, things will get very cool and dark. Stars will burn out, some of which will become black holes. As this happens, the black holes will suck in everything around them. In the end, the night skies will be largely black. Only a few stars will remain. In time, they will burn out. All that will be left will be black holes, pulling in whatever is left. Expansion will stop, of course, because there will be nothing left to expand.
Then gravity can take over: the black holes will suck everything up, except perhaps for a litle background microwave energy, and then begin slowly, slowly, slowly drifting toward each other. A couple will collide over here, creating a flash of energy—that will promptly be sucked up by the new merger or other black holes nearby. Over trillions of years, they will slowly drift back together, but moving faster and faster as they do. Eventually, they coalesce and pow—for a brief second, they attain a zero-entropy state, everything is packed back together, temperatures accelerate until normal matter breaks down, and blammo—another big bang.
You might think this is old news. But this premise, which is a terribly over-simplified subset of something called chaotic inflation theory, is different from the old cyclical universe idea. In the latter, the universe expands, contracts, expands, contracts, ad infinitum, each time the universe is created anew.
In the chaotic inflation theory, the universe never really goes away: in the former subset theory, there is still that background microwave radiation floating out there at the far reaches, so far away that the blackholes bang back together before this radiation gets sucked back in. And with each successive bang, more of this radiation gets released.
Interesting theory, if you can prove it. But Penrose released a paper recently that analyzes the cosmic microwave background radiation, and finds weird concentric rings around its edges. Like soapy water, if you let it settle, the bubbles move to the outside edges of the sink. Each splash of water in the middle puts another ring of bubbles, and so on. But what you notice is that the oldest bubbles are really, really tiny, and each sucessive ring has bubbles that get progressively bigger. And the microwave radiation we see shows something like that: as if a series of big bangs keep throwing more radiation out there. The oldest stuff is packed a little more near the outer edges; the newer stuff is a bit more spread out.
Penrose believes this is pretty solid evidence that this subset theory could be correct. Are there other explanation for this observation? Not yet, but inevitably, there will be. In a good theory (say like natural selection), you have lots and lots of evidence that begins to eliminate other explanations. In a weak theory (like intelligent design), most of your evidence can be explained by other theories. So Penrose's theory just added in a critical piece of evidence—it does not mean other explanations will not follow, but the more evidence you do have, the better for your theory.
This seems mildly interesting to you, and it should because the idea is kinda neat: we might be seeing echoes of earlier cosmological explosions. However, you will be seeing headlines in your newspapers or on television that will say stuff like "Astronomers see evidence of universe before Big Bang," or "Proof of universe before time began."
No, not quite. One small subset idea of a larger theory has just produced an explanation for an unexpected discovery. That is, unfortunately, about it. Plus, it depends what you mean by before the Big Bang. In chaotic inflation theory proper, there are bangs happening all the time for various reasons; it is possible within that construct for you to figure out what happened before the bang that resulted in us. In other theories, it is less likely to know for sure. So let us sit back and wait for the math (and God, the math!) that will follow from all this.

Божію Поспѣшествующею Милостію Мы, Дима Грозный Императоръ и Самодержецъ Всероссiйскiй, цѣсарь Московскiй. The Czar was born in the steppes of Russia in 1267, and was cheated out of total control of all Russia upon the death of Boris Mikhailovich, who replaced Alexander Yaroslav Nevsky in 1263. However, in 1283, our Czar was passed over due to a clerical error and the rule of all Russia went to his second cousin Daniil (Даниил Александрович), whom Czar still resents. As a half-hearted apology, the Czar was awarded control over Muscovy, inconveniently located 5,000 miles away just outside Chicago. He now spends his time seething about this and writing about other stuff that bothers him.