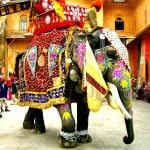 Over at the Corner, Douglas Holtz-Eakin says when we're done celebrating, it'll be time to wake up and realize nothing has been guaranteed:
The reality is that Republicans will not set the agenda. The Tea Party will not set the agenda. Conservatives will not set the agenda. Barack Obama remains the president of the United States. He will continue to set the agenda; he has the largest megaphone, and has the obligation to lead. Today represents the beginning of answering the most interesting question: Will Barack Obama, for the first time, put action behind his words regarding bipartisanship and willingness to reach across the aisle, and work with Republicans? Or will this continue to be rhetoric only, with actions guided by his liberal instincts?

For Americans, this will matter greatly. But for Republicans, it should matter little. Their gains reflect the fact that voters want government based on first principles — a small, contained, efficient government — and Republicans campaigned on this. Voters also want accountability, so Republicans should cast every vote from a small government, efficiency perspective regardless of the agenda the White House presents.
The Czar agrees with all of this. But only provisionally: as long as Barack Obama is the President of the United States (just two more years), the Republicans will be quite motivated to follow through on their campaign promises.
On last night's FoxNews coverage, Charles Krauthammer explained that the President can easily remain a die-hard liberal by regulating his policies. Cannot pass Cap and Trade? Have the EPA enforce new requirements that mimic it. Repealing portions of Healthcare Reform? Not an issue: have HHS begin new policies and procedures that put it back. Little things—things the average person will never know about.
As long as these minute slight-of-hand tricks continue, the GOP can have cannon-sized ammunition for their own ends. Mr. Holtz-Eakin suggests that nothing has been guaranteed from last night's win; true enough, but for the next two years, Republicans have every incentive to fulfill their agenda for change.

Божію Поспѣшествующею Милостію Мы, Дима Грозный Императоръ и Самодержецъ Всероссiйскiй, цѣсарь Московскiй. The Czar was born in the steppes of Russia in 1267, and was cheated out of total control of all Russia upon the death of Boris Mikhailovich, who replaced Alexander Yaroslav Nevsky in 1263. However, in 1283, our Czar was passed over due to a clerical error and the rule of all Russia went to his second cousin Daniil (Даниил Александрович), whom Czar still resents. As a half-hearted apology, the Czar was awarded control over Muscovy, inconveniently located 5,000 miles away just outside Chicago. He now spends his time seething about this and writing about other stuff that bothers him.