Your Government At Work, Part the First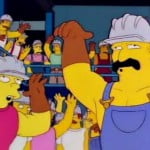 Businesses aren't hiring. Unemployment is stuck at nearly ten percent. Americans believe the recession is still in full swing, regardless of what the pointy heads at NBER say. The Obama Administration is talking about raising taxes. Unintended, though eminnently foreseeable, negative consequences of ObamaCare are materializing. The House refused to hold a vote on extending the Bush tax cuts before adjourning to hide out from constituents. The White House has said its scaled back legislative agenda is going to include immigration reform and cap and trade legislation, but not economic recovery.
There is a direct connection between the government's craziness and the recession. Put simply, American businesses and individuals have no earthly idea what the heck the government is doing or is going to do. They believe the government is focused on the wrong issues, is spending too much money, and is generally clueless.
There is a five dollar phrase for this state of affairs: regulatory uncertainty. Put simply for folks like 'Puter: our government is acting like ass hats, and we're scared. Until the government gets its collective act together, rational actors will sit on their money rather than investing, prolonging the Great Recession.
Not content to watch the nation burn slowly to the ground, Democrats seek to throw gasoline on the fire. A Democrat Congressman from California (practically an ipse dixit) introduced legislation to ban state right to work laws. In other words, you can be forced to either join or fund a union against your will. It's interesting to note that the 28 states currently permitting such anti-competitive practices (see map at link) are generally economic cellar dwellers and lead the league in high taxes.
If the Democrats cram through this legislation in the lame duck session, the impact on the American economy will be brutal. Unionized businesses can't compete with non-union businesses. For example, consider GM v. Toyota, or FedEx v. UPS. The non-unionized businesses (Toyota, FedEx) are beating the pants off the unionized businesses (GM, UPS), and the unionized businesses have run whining to the government to insist the non unionized business be hamstrung. 'Puter won't even discuss the negative impact of public sector unions on tax rates, freedom and governance as it would make him sick. Only if you think all our businesses should be run like GM, and that all our states should be governed like California is forced unionization a winning idea.
Repeal of right to work laws is nothing more than a kickback to unions who funded Democrat victories in 2006 and 2008 with forcibly taken union dues. Democrats should be ashamed of such transparent corruption.
Remember this when you vote on November 2. And if you choose not to vote, shut the heck up. 'Puter won't listen to your griping.

Always right, unless he isn't, the infallible Ghettoputer F. X. Gormogons claims to be an in-law of the Volgi, although no one really believes this.
'Puter carefully follows economic and financial trends, legal affairs, and serves as the Gormogons' financial and legal advisor. He successfully defended us against a lawsuit from a liquor distributor worth hundreds of thousands of dollars in unpaid deliveries of bootleg shandies.
The Geep has an IQ so high it is untestable and attempts to measure it have resulted in dangerously unstable results as well as injuries to researchers. Coincidentally, he publishes intelligence tests as a side gig.
His sarcasm is so highly developed it borders on the psychic, and he is often able to insult a person even before meeting them. 'Puter enjoys hunting small game with 000 slugs and punt guns, correcting homilies in real time at Mass, and undermining unions. 'Puter likes to wear a hockey mask and carry an axe into public campgrounds, where he bursts into people's tents and screams. As you might expect, he has been shot several times but remains completely undeterred.
He assures us that his obsessive fawning over news stories involving women teachers sleeping with young students is not Freudian in any way, although he admits something similar once happened to him. Uniquely, 'Puter is unable to speak, read, or write Russian, but he is able to sing it fluently.
Geep joined the order in the mid-1980s. He arrived at the Castle door with dozens of steamer trunks and an inarticulate hissing creature of astonishingly low intelligence he calls "Sleestak." Ghettoputer appears to make his wishes known to Sleestak, although no one is sure whether this is the result of complex sign language, expert body posture reading, or simply beating Sleestak with a rubber mallet.
'Puter suggests the Czar suck it.